Dimensions and equipments of Badminton game

This article gives you complete information about Badminton game. This article gives you more details about the dimensions of court in Badminton game. More details about Badminton equipments are also quoted in this article.


About Badminton Game

Badminton is one of the best racquet spoort in the world. Now a days Badminton game is getting more popular in all parts of the game. Badminton game is played in singles and doubles. Badminton game is played with Racquets and Shuttle cocks.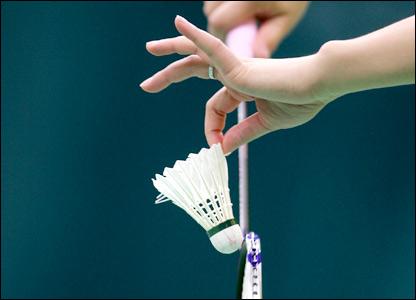 Badminton is officially approved as Olympic event in 1992 which includes men's and women's singles, men's and women's doubles, and mixed doubles. The player should have more strength, power and skills for playing the game. In doubles a good team effort is required for playing Badminton.

The main controller and organizer of Badminton game is Badminton World Federation. According to the study, Badminton game arises in Britan in 18th century. The International Badminton Federation (IBF) which is currently known as Badminton World Federation started functioning in the year 1934.


Badminton Court dimensions

The Badminton court is divided into two halfs with a net of 1.55 mts high. The width of the court will be 6.1 mtr in doubles and in singles width will be 5.18 mtr. Length of the full court will be 13.4 mtr. Short service line from the net is 1.98 mtr and Long service line from back will be 0.76 mtr. The net height will be 1.55 mtr.


Equipments for playing Badminton game

Racquets

Badminton racquets are having generally having lesser weight of just 70 to 95 grams. The cost of badminton rackquets ranges according to the quality and Company. Currently Yonex Racquets are having more demand. Le ning, Carlton, Cosco etc also offers good quality Badminton Racquets. Racquets are generally made of Carbon, graphite and wood. Racquets are made in Oval or Isometric shapes.

Badminton Strings

The main part of the Badminton Racquets is its String. There are different types of strings offered by different companies. String of the racquet determines its speed and power of bat. Some string are designed for attacking strategy and some are designed for slow shots. The thickness of the string will be 0.62 to 0.73 mm. Yonex and Ashaway are leading producers of quality Badminton Strings.

Badminton Grip

Grips are important part of a Badminton racquet as it determines the handling control of the bat. There are two types of grips. First one is over grips which is thinner and used by playere who frequently change the grip and second one is replacement grips which is thiker and used to increase the size of the handle to get more control. Different players use different grips according to their comfort in handling the racquet.

Badminton Shuttlecock

Badminton is played using Shuttllecocke. Shuttle cock is made of feather aswell as plastic materials. Generally 16 feathers is used in making a shuttlecock. Yonex is the best shuttlecock producing company in the world. they produce both plastic aswell as feather cocks. There are slow, medium and fast shuttlecocks. Generally medium speed shuttlecocks are used in all badminton games.

Badminton Shoes

Badminton shoes is one of the main equipment in Badminton game. Badminton shoes are having less weight and more frip which will give more control in the movements while playing the game. Badminton shoes are different from ordinay shoes. Playing with Ordinary shoes will badly affect the game.