Alicia Coutts Biography and Career Profile of Australian female Swimmer

Alicia Coutts won five medals in recently held 2012 London Olympics including a gold medal setting an Olympic record in that event. This talented 24 year old Australian swimmer has achieved a lot more in her career. Read this article to know more about her.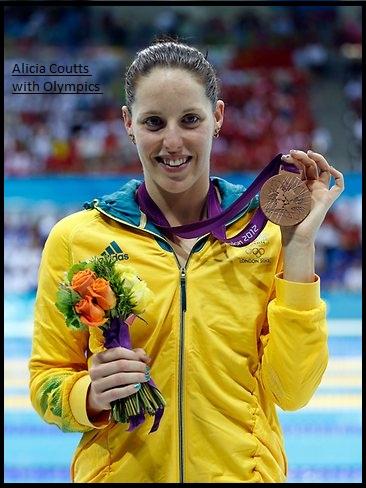 Biography and Profile of Alicia Coutts

Alicia Coutts is an Australian female swimmer. She takes part in medley, butterfly and freestyle swimming competitions.

Full Name: Alicia Jayne Coutts


Birth Date: 14 September, 1987


Birth Place: Brisbane, Queensland


Country: Australia


Sport: Swimming in butterfly, freestyle and medley



Swimming Career of Alicia Coutts

Alicia Coutts was the member of the Australia's swimming team participating in 2008 Beijing Olympics. She then participated in 2010 Commonwealth Games where she won five Gold medals. She won gold in 100-metre butterfly, 100-metre freestyle, 200-metre Individual medley, 4*100-metre freestyle and 4*100 -metre medley events. But before the 2010 Commonwealth Games, she has also won two silver and one bronze medal at Pan Pacific Championship held at Irvine, California. At 2011 World Championship, she won three more medals - two silver and one bronze.

Alicia Coutts performance in 2012 London Olympics
Coutts biggest achievements came at 2012 London Olympics where she won five medals including Gold medal in 4*100-metre freestyle event of swimming. She won the gold medal by setting a new Olympic record in that event. She also won three Silver medal. These silver medals came at 200-metre medley, 4*200-metre freestyle and 4*100-metre medley events. Her fifth medal was a bronze medal in 100-metre butterfly event.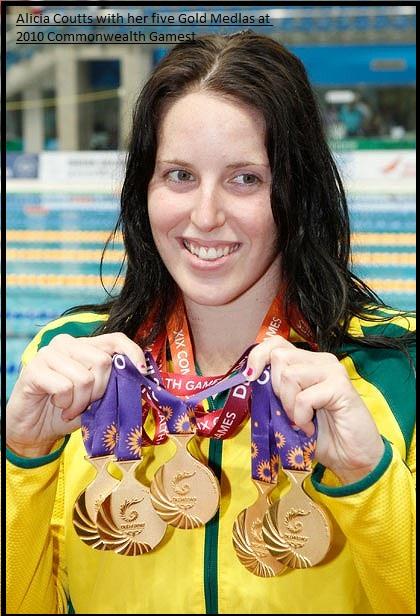 Medals and Achievements of Alicia Coutts

In 2010, Coutts won the Pacific Rim Swimmer of the Year award.
2012 Olympics

Gold Medal in 4*100 m freestyle (Olympic Record)


Silver Medal in 200 m medley


Silver Medal in 4*200 m freestyle


Silver Medal in 4*100 m medley


Bronze Medal in 100 m butterfly

2010 Commonwealth Games

Gold Medal in 100 m butterfly


Gold Medal in 100 m freestyle


Gold Medal in 200 m individual medley


Gold Medal in 4*100 m freestyle


Gold Medal in 4*100 m medley

2010 Pan Pacific Championship

Silver Medal in 4*100 m freestyle


Silver Medal in 4*100 m medley


Bronze Medal in 100 m butterfly