Daniel Gyurta Hungarian Swimmer biography and career profile

Daniel Gyurta is the world record holder in men's 200-metre breaststroke event of swimming. Read about the biography and career profile of this Hungarian swimmer who has won many medals in his career including two medals in Olympic Games.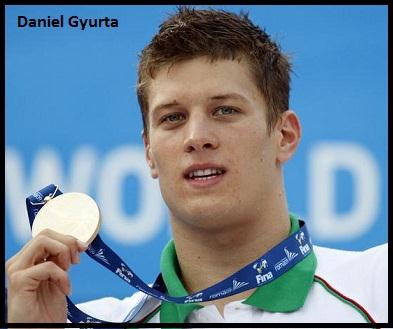 Daniel Gyurta is a Hungarian swimmer who holds the world record in men's 200-metre breaststroke which he achieved at 2012 London Olympic Games. Gyurta was born on 4 May, 1989 at Budapest.


Swimming Career of Daniel Gyurta

Daniel Gyurta competed in 2004 Athens Olympic Games and won the silver medal in men's 200 m breaststroke event. He was only 15 year old at that time. In 2008 Beijing Olympics his performance in the final of 200 m breaststroke event was not good enogh to win a medal. But he still set the Olympic record in 200 m breaststroke event in preliminary round which was broken at the same event by another swimmer Kitajima.

In 2009, Gyurta become the Hungarian Sportsman of the year after winning gold medal at 2009 World Aquatics Championship in 200 m breaststroke. In 2011 World Aquatics Championship, he defended his title in the same event. In 2012 London Olympics, he competed in both 100 m breaststroke and 200 m breaststroke. He won gold medal in 200 m breaststroke by setting a new world record in the event by completing the race in 2:07:28 time. This is also the Olympic record for this event.


Medals and Achievements

Gold Medals

2012 London Olympics in 200 metre breaststroke


2009 World Aquatics Championship (Rome) in 200-metre breaststroke


2011 World Aquatics Championship (Shanghai) in 200-metre breaststroke


2010 European Aquatics Championship (Budapest) in 200-metre breaststroke


2012 European Aquatics Championship (Debrecen) in 200-metre breaststroke


2006 European Short Course Swimming Championship in 200-metre breaststroke


2007 European Short Course Swimming Championship in 200-metre breaststroke


2009 European Short Course Swimming Championship in 200-metre breaststroke


2011 European Short Course Swimming Championship in 200-metre breaststroke

Silver Medals

2004 Athens Olympics in 200-metre breaststroke


2010 FINA Short Course World championship in 200-metre breaststroke


2009 European Short Course Swimming Championship in 100-metre breaststroke

Bronze Medal
2012 European Aquatics Championship in 4*100-metre medley