Merion Golf Club - one of the top Golf Club in America

Merion golf Club which was established in year 1912 at Ardmore, Pennsylvania is among the top golf clubs in America. Consists of two courses the club has hosted numerous important tournaments and is also going to host 2013 US Open.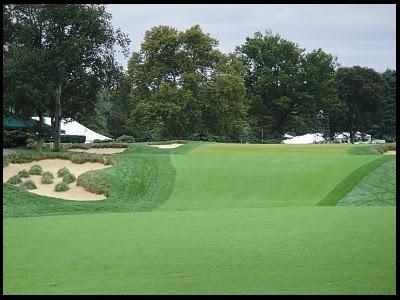 Merion Golf Club

Merion Golf Club is one of the top rated golf club in America. It is located in Ardmore, Pennsylvania at Haverford Township. The golf club is comprised of two courses - East Course and West Course.


History of Merion Golf club

Merion Golf Club was established in 1912. But information said there was another golf course which was closed in 1912 after East course of the club was opened. The original course was said to be established in 1896. A scottish architect Hugh Irvine Wilson started the design of the new course in 1910. The West course of the club was opened in 1914 which was also designed by Wilson.

In 1916 U.S. Amateur, a USGA (United States Golf Association) championship tournament was held at the East course of the club. This was the first big tournament to be held at Merion Golf Club after its renewal. U.S. Open which is one of the four major championships held at the club in 1934. It was again held three more times - in 1950, 1971 and 1981. Apart from the major championships numerous Amateur championships and International team competitions were also held time to time.


Information about Merion Golf Club

The club has two 18-hole courses - East Course and West Course. The East course of Merion Club is highly regarded course in the world. The 11th hole of this course is witnessed as a great moment in the history of golf sport when Bobby Jones achieved the only 'Grand Slam' at this hole in 1930. Here is the complete information regarding these two courses -
East Course

Opened in: 1912
Designed by: Hugh Irvine Wilson
Holes: 18
Par: 70
Length: 6,868 yards
Slope: 142

West Course

Opened in: 1914
Designed by: Hugh Irvine Wilson
Holes: 18
Par: 70
Length: 5,989 yards



Recent Tournaments

In 2009, prestigious Walker Cup - a team competition played between Team USA and Team Great Britain & Ireland was hosted by the club. Team USA won the competition by a score of (16.5 - 9.5). The 2013 U.S. Open is also scheduled to be held in Merion Golf Club.