Firestone Country Club - a Golf Club in United States

Firestone Country Club is a golf club which has three courses - South, North and West is the venue of the WGC-Bridgestone Invitational, a very important golf tournament in the World. Here is given about the history, the tournaments of this golf club.


Firestone Country Club is a golf club situated in United States at Akron, Ohio. Currently it is the venue of WGC-Bridgestone Invitational - a very important professional golf tournament in the world. Firestone Country Club has three courses - North, South and West.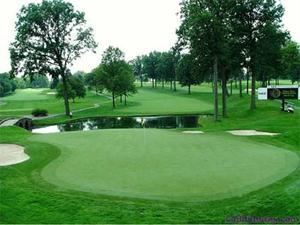 History and Tournaments

Firestone Country Club was established in 1929. Initially it was designed by Bert Way who designed its South course. Famous golf course architect Robert Trent Jones designed the North Course of the club which was opened in 1969. In 1989, West course was added to the club. In 2002, the club's West course was designed by Tom Fazio. In 1973, the club hosted three different televised golf tournament in the same calender year which no other golf club has done.

Firestone Country Club has hosted so many big golf tournaments in the past. One of the four major championships PGA Championship was first played at the club in 1960. It was again played at the club in 1966 and 1975. The club also hosts WGC-Bridgestone Invitational, which is one of the five World Golf Championships in the world. Another golf event hosted by the club was American Golf Classic from 1961 to 1976.


Firestone Country Club Information
Courses:
South Course (designed by Bert Way)
North Course (designed by Robert Trent Jones)
West Course (designed by Tom Fazio)
Length of Courses:
South (7283 yards)
North (7125 yards)
West (6904 yards)
Total Holes: 54 (18 in each Course)
Location: Akron, Ohio (United States)
Established in: 1929