Career, Profile and Records German professional golfer Martin Kaymer

This article is focussed on the profile of a professional golf player from Germany who had become World No.1 in World Golf Ranking and also won the PGA Championship. We are talking about Martin Kaymer. Here is given the profile, career and records of this golfer.


Martin Kaymer is a german professional golf player and the winner of the PGA Championship 2010. He was born on 28 December in Dusseldorf of West Germany. Currently he is playing on European Tour.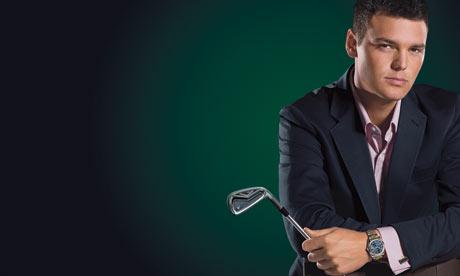 Golf Career of Martin Kaymer
Martin Kaymer turned professional in year 2005. His first professional win came in same year at Central German Classic golf tournament on EPD Tour, as an amateur. In 2006 he won five different tournaments on EPD Tour and become successul to qualify for European Tour. His first appearance in any European Tour Tournament came at Hong Kong Open in 2007. He won the Sir Henry Cotton Rookie of the Year Award for that season due to his excellent debut on the tour, though he didn't won any tournament on the tour in that season. Martin won his first European Tour event at the start of 2008 at Abu Dhabi Golf Championship. He won two more events in 2008, first at BMW International Open and second at Open de France ALSTOM.

PGA Championship and World No. 1 Ranking
Kaymer started 2010 with a bang when he won Abu Dhabi Golf Championship for second time in his career. He also performed well in U.S. Open and The Open Championship. He finished Top 10 in both these major championships. His best performance came at PGA Championship of the year. He won event by defeating Bubba Watson for his first win in a major championship.

He got rewarded for his excellent performance when he becomes World No.1 Golfer after finishing runner-up at WGC-Accenture Match Play Championship. He soon lost his No.1 ranking. In 2011, he also won his first WGC event by winning HSBC Champions.

Team Appearances by Martin Kaymer
Kaymer represent Germany in World Cup four times - 2007, 2008, 2009 and 2011. He also played in 2010 Ryder Cup, while representing Europe Team. Europe become the winner of the tournament.


Profile of Martin Kaymer
Full Name - Martin Kaymer
Birth Date - 28 December, 1984
Nationality - Germany
Turned Professional in - 2005
Tours - European Tour, Challenge Tour, EPD Tour
Records and Statistics related to Martin Kaymer
Professional Wins - 18

Central German Classic (2005)
Friedberg Classic (2006)
Habsberg Classic (2006)
Coburg Brose Open (2006)
Winterbrock Classic (2006)
Hockenberg Classic (2006)
Vodafone Challenge (2006)
Open des Volcans (2006)
Abu Dhabi Golf Championship (2008)
BMW International Open (2008)
Open de France ALSTOM (2009)
Barclays Scottish Open (2009)
Abu Dhabi Golf Championship (2010)
PGA Championship (2010)
KLM Open (2010)
Alred Dunhill Links Championship (2010)
Abu Dhabi HSBC Golf Championship (2011)
WGC-HSBC Champions (2011)

Best Performance in Major Championships :

Masters Tournament - CUT (2008, 2009, 2010, 2011)
US Open - Tied on 8th position in 2010
The Open Championship - Tied on 7th position in 2010
PGA Championship - Winner in 2010

Perormance in Major Championships

Tournaments Played - 16
Wins - 1
Top 10 finishes - 4
Top 25 finishes - 5