Scoring rules and terminology used in Archery sports

Technical terms of archery and various rules like shooting and scoring still seem complicated to many. With competitive archery being an important sports event, why don't take a look at the list of rules of archery and different terms used in this sport?


Archery is an ancient form of shooting, and here an arrow and a bow is used to shoot the target. Archery was used in ancient times to hunt animals and also a form of recreation. It was also used as a major of defence of a kingdom and later a nation. It was an important form of defence and in 14th Century a law was passed by English making it compulsory for every man between age of 7 to 60 to learn archery.

Archery began taking the form of a competitive sport in the 16th Century and first archery sports event was held in Finsbury, London, in 1583. Let us now take a look at the various archery rules, scoring systems in archery, technical terms in archery and so on.


Archery rules and scoring systems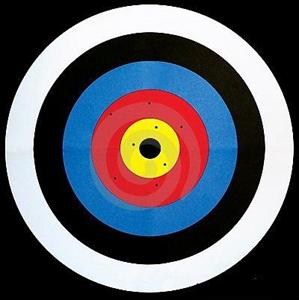 While there are some accepted rules of archery by the FITA, in some non-FITA tournaments and championships, different regional archery rules and scoring systems apply. Archery is played by a bow, there is not any fixed pattern of bow but crossbow is not allowed.

Arrows used in this sports have a distinctive crest in order to identify the archer and when an archer gets signal arrow is knocked. Six arrows are shot at various distance from longer to shorter distance. Distances shot are -

Men : 90m (300 feet), 70m(230 feet), 50m(165 feet), 30m (100 feet)
Women : 70m, 60m, 50m, 30m.

Once an arrow is shot but doesn't reaches the target,s till it is considered at valid shot. Scoring is done from highest score to lowest score. If an archer knock more than 6 times, lowest 6 shots are considered as valid shots. There are different rings in target, scoring depends on the ring where the arrow is knocked.

There are different forms of archery including


Target archery - Where one target is shot from various distance by archers.


Range Layout - Where target is at one end of the ground inclined at an angle of about 15 degrees, with the pinholes 130cm (4ft.3in )+ 5cm above the ground.


3D archery - 3D archery can be called a variation of the field archery which focuses on shooting life-size models. The aim is recreating an environment of hunting.


Clout archery - It is a variation of target archery where the archer aims at dropping the arrow at long ranges, typically 180 yards/165 m for men and 140 yards/128 m for women.


Flight archery - Flight archery targets at shooting the greatest distance. Other factors like penetrating power or accuracy are not considered in this forum of archery.
Technical terms used in archery

Few important archery technical terms are

Boss - The meaning of Boss in archery is the target stand which is square black block made of compacted foam, and round target face is attached to it.
Bowman - Bowman in archery is another term used for an archer.
Draw - The meaning of draw in archery is to pull back of string of bow to get ready for a shot is known as draw.
Nock - The meaning of nock in archery is the end portion of arrow or tail of arrow that rests against the bow string.