Profile, biography and career history of Indian Badminton star Saina Nehwal

This article gives you complete details about career history of Saina Nehwal badminton star of India. Check out this article as you can get Profile details and biography of Saina Nehwal. Current sponsers of Saina Nehwal is also quoted in this article.


Biography of Saina Nehwal

Saina Nehwal was born in the year 1990 march 17. Saina was born in Hariyana and settled in Hyderabad. Her Father and mother were great badminton players. Both of them were badminton champions in Hariyana and her mother had reached top rank position in Badminton. Saina Nehwal was the first women to reach singles badminton quarter finals in Olympics. She was also the first Indian to win a Super series badminton tournament. This amazing win was made in the year 2009.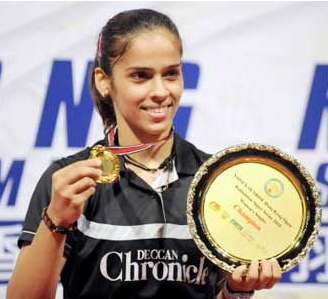 After winning that tournament her success journey in Badminton continued in 2010 where Saina had lifted Singapore open title and also Indonesian open in the same year. This major wins resulted Saina to improve her rank position to No 2. Hong kong super series is also taken in that same year which resulted a hat trick title win in the year 2010.Yonex company is the sponsors of Saina Nehwal. In 2004 BPCL (Bharat Petroleum Corporation Limited) also supported her badminton career and she also get support from Olympic Gold Quest.


Career History of Saina Nehwal

Czechoslovakia Junior Open(2003): Gold
2004 Commonwealth Youth Games(2004): Silver
Asian Satellite Badminton Tournament(2005): Gold
2006 Commonwealth Games(2006): Bronze
Philippines Open badminton(2006): Gold
Asian Satellite Badminton Tournament(2006): Gold
Indian National Badminton Championships(2007): Gold
National Games of India(2007): Gold
Chinese Taipei Open Grand Prix Gold(2008): Gold
Indian National Badminton Championships(2008): Gold
Commonwealth Youth Games(2008): Gold
BWF World Junior Championships(2008): Gold
BWF Super Series Masters finals(2008): Reached semifinal
Indonesia Super Series(2009): Gold
BWF World Championships(2009): Reached Quarterfinal
Indian Open Grand Prix(2009): Gold
All England Super Series(2010): Reached semifinal
Badminton Asia Championships(2010): Bronze
Open Grand Prix Gold(2010): Gold
Singapore Open Super Series(2010): Gold
Indonesia Open Super Series(2010): Gold
BWF World Championships(2010): Reached Quarterfinal
Commonwealth Games(2010): Gold
Hong Kong Super Series(2010): Gold
Swiss Open Grand Prix Gold(2011): Gold
Indonesia Open Super Series Premier(2011): Silver


Profile details of Saina Nehwal

Full name:Saina Nehwal
Date of birth:17-3-1990
Birth place:Hisar in Hariyana
Current residence:Hyderabad in India
Badminton Level:Professional level
Main concentration:Badminton singles
Height:5ft 5 inches
Weight:60 kg
Name of Father:Dr. Harvir Singh
Name of Mother:Mrs Usha Nehwal
Current Coach of Saina Nehwal:Pullela Gopichand
Current ranking:Rank 6
Current racket used:Yonex ArcSaber 7
Training done at:Gopichand Badminton Academy, Hyderabad
Face book account of Saina Nehwal:http://www.facebook.com/pages/Saina-Nehwal/26985425909
Twitter account of Saina Nehwal:http://twitter.com/#!/sainaHnehwal

Awards won by Saina Nehwal
Arjuna award
Rajiv Gandhi Khel Ratna
Padma Shri

Badminton titles won by Saina Nehwal
Commonwealth Games Gold Medal
World Junior champion
Olympic quarter finalist at 2008 Beijing Olympics
4 Super series titles
Swiss Open Grand Prix Gold title