Profile, biography and career of Aparna Popat: Indian Badminton Player

We are well known with the Saina Nehwal but Aparna Popat, who is also Indian Badminton player. From Gujarati family, Aparna Popat was born on 18 January 1978 in Mumbai. She is an best Indian badminton player. See more details of Aparna Popat from this resource.


Aparna Popat is from Mumbai and born in a Gujarati family in Mumbai. She has made an impact in badminton by her class play and after Saina Nahiwal, she has emerged another women badminton player from India to make a place in International arena.

Aparna Popat completed her School education in Mumbai at J.B. Petit School and her pre-university education at the Mount Carmel College based on Banglore. She completed her Bachelor's degree from the Mumbai University in the Commerce faculty.


Career of Aparna Popat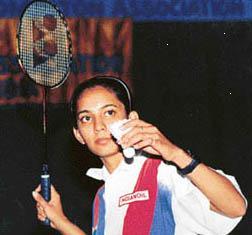 At the age of 8, she starts playing badminton. She is won National level and state level tournament. In 1994, she joined Prakash Padukone's Badminton Academy which is based in Banglore.
In 1998, she got the first senior national title. That time she defends the Manjusha Pawangadkar. At Jamshedpur in 2005 February, there is 69th Senior National Badminton Championship taken place, that time she lifted the women's singles title for the eight year. In the year of 2002


Personal information of Aparna Popat

Full name: Aparna Laliji Popat
Birth date: 18 January 1978
Birth Place: Mumbai, Maharashtra, India
Height: 160 centimeters