History of Italian Professional Basketball Club Pallacanestro Virtus Roma

This article is about a professional basketball club of Italy - Pallacanestro Virtus Roma, which is one of the top basketball club in the country. Know about the history, players and achievements of this club through this article.


Pallacanestro Virtus Roma is a professional basketball club of Italy which participates in the top basketball league in the country Italian League also known as Lega Basket Serie A. The club is based in the city of Rome.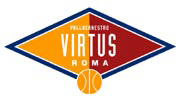 History and Arena of the club

The club was founded in 1960 with the name Virtus Aurelia, later which was changed to Pallacanestro Virtus Roma. In 1971 the name of the club changed to Banco Roma which remained till 1988. The club won its first and only Lega Basket Serie A title in 1982-83. They then went on to win the prestigious Euroleague Championship and World Club Championship in 1984. During the 1980s, the club was one of the strongest basketball club in Italy. Players like Enrico Gilardi, Marco Solfrini, Clarence Kea and Larry Wright were the part of the club. The club then won the Korac Cup in 1986 and 1992.

In 2000-01, the club become the winner of Italian Basketball Supercup in which the winners of Italian Championship and winners of the Italian Cup plays each other. In 2007-08, the club finished at second place of the Italian Championship that year. With that the club qualified for Euroleague 2008-09. The home ground of the club which are called as Arenas, is Palazzetto dello Sport which have a seating capacity of 3,500.


Current Team and Staff of the club

The current team of the club has players from various countries like Nigeria, Hungary, United States and Poland. Here is the names of players currently playing in the club Pallacanestro Virtus Roma - Phil Goss, Bobby Jones, Alessandro Tonolli, Filippo Gorrieri, Lorenzo D'Ercole, Ade Dagunduro, Luigi Datome, Jordan Taylor, Gani Lawal, Olek Czyz, Peter Lorant, Matteo Tombone, Emanuels Di Giacomo, Alessandro Guagliardi, Guglielmo Billi. Luigi Datone is the captain while Marco Calvani is the current Head Coach of the club alongwith Massimo Maffezzoli and Antimo Mortino as the Assistant coaches. The president of the club is Claudio Toti.