Profile and Career of Lithuanian footballer Tomas Danilevicius

Want to know about the biography of Tomas Danilevicius? Here you can read the profile and career of top Lithuanian football player Tomas Danilevicius. Having scored most number of goals for his country, he has played for several professional clubs. Know all about this football player.


Tomas Danilevicius is a professional footballer from Lithuania. He has played for several professional football clubs like Club Brugge, Dynamo Moscow, Lausanne, Arsenal, Livorno, Bologna and many more in his career. His position is of as Striker in the teams. Currently he is playing for Italian football club Juve Stabia.



Club Career of Tomas Danilevicius

Danilevicius started his professional football career playing for Club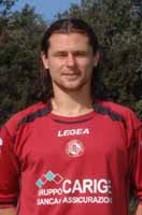 Brugge in 1996. Earlier in 1995 he was in Atlantas club but didn't get chance to play any match for the club. In 1998 he joined Dynamo Moscow, a russian football club. He played two years for the club. In 13 matches for the club he had scored five goals.


Football Career of Tomas Danilevicius

From 2000 to 2002, Danilevicius played for many clubs including three matches for Arsenal football club. In 2002 he involved himself with Italian club A.S. Livorno Calcio (Livorno) and played for the club till 2006. He played in 73 matches for the club during this period and scored 10 goals. He was also loaned to Avellino for 2005 and 2006 by the club. In 2008 he again joined hands with Livorno for next three years. In 65 matches he played during this three years for the club, he scored 16 goals making a total of 26 goals for the club in 138 appearances. In 2011, Tomas Danilevicius joined Juve Stabia club. He has played 43 matches for the club till now in which he has made 11 goals for the club.


International Career of Tomas Danilevicius

Tomas Danilevicius made into the Lithuania's National Football team in 1998. He scored his first international goal against Cyprus in 2-1 win. In 2006, he scored two goals in a friendly match against Malta. In 2010 FIFA World Cup qualifying match against Austria he scored two goals in a 2-0 win. He has scored 19 goals for Lithuania in 72 matches. He is also the leading goal scorer for his country in International matches.


Awards and Honors for Tomas Danilevicius

Tomas is one of the top football player from Lithuania. He was named Lithuanian Footballer of the Year for two consecutive years (2006 and 2007). He also holds the honor of scoring most number of goals for his country in the sport.