Australian cricketer Hugh Trumble Profile, Career and Cricket Records

Hugh Trumble was called as first great spin bowler in the history of cricket. Read about the profile, cricket career and test record of this great Australian cricketer who played Test Cricket for Australia from 1890 to 1904.


Hugh Trumble - First great spinner in the history of cricket

Hugh Trumble was an Australian cricketer who played Test Cricket for his country from 1890 to 1904. He was an outstanding off-spinner who can also bat a little in the late middle order. He also captained the Australian side in two Tests. At the time of his retirement, Hugh Trumble was the leading wicket-taker in Test Cricket. His brother John Trumble also played Test Cricket for Australia.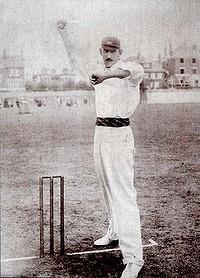 Test Career of Hugh Trumble

Test Debut
In 1890, Hugh Trumble made his Test debut at Lord's Cricket Ground against England. He batted at number eleven and number ten in first and second innings of Australia respectively. He didn't done much in the bowling and took only one wicket in the loosing cause. His performance in that tour of England was ordinary. In 1893, he was again the part of the team that toured England for three Test series. He took six wickets and made 58 runs for his team in three matches. His performance in tour matches and other first-class matches was very good with improvement in his batting ability.
1896 England Tour
Trumble was in and out of the Australian team during early 1890s. His first success in Test Cricket came during the 1896 tour of England. In first test, he took two wickets in the match which Australia lost by six wickets. In second test, Trumble played a match winning innings of 17 not out chasing a total of 125 inspite of some excellent bowling by Tom Richardson and huge pressure. In third and last test, Trumble showed his excellence in bowling. His bowlin figures in first and second innings were 6/59 and 6/30 respectively. This was one of his three ten-wicket haul in a match. He took a total of 18 wickets in that three test series.

Trumble then scored his first half century in the first test of 1897-98 Ashes series played in Australia making 70 runs. This is also his highest test score. His series performance was also superb. He made 170 runs and took 19 wickets in five tests. He again delivered with both bat and bowl during England's tour of Australia in 1899.
Test Captaincy
Trumble become the captain of the Australian team against the touring England team in 1901-02. Australia won both the tests under the captaincy of Hugh Trumble which was offered to him after Joe Darling, the captain of the team withdrew the test series after three tests. Trumble also made a hat-trick in the same series. He also opened the innings for Australia in the fourth test of the series but scored only 6 runs.

In his last tour of England, he was in great form. He took 26 wickets in three tests of the five test series. In fifth test, Trumble bowled his best bowling figures in Test Cricket. His bowling figures in England's first innings of the match were 8/65. He played one more test against South Africa before his retirement in 1902. He again returned in Test Cricket during England's tour of Australia in 1903-04. He took 9 wickets in the second test. In fifth test, he made his second hat-trick in Test Cricket.


Cricket Profile of Hugh Trumble
Full Name: Hugh Trumble
Birth: 12 May, 1867
Nationality: Australian
Role in the Team: Bowler
Batting Style: Right Hand Batsman
Bowling Style: Right Arm off-break bowler
Teams Hugh Trumble played for: Australia, Victoria
Test Debut: On 21 July, 1890 against England at Lord's
Cricket Career: 1887 to 1904
Cricket Records and Stats of Hugh Trumble
In Test
Test Matches: 32
Runs made: 851 runs
Batting Average: 19.79
Highest Test Score: 70
Balls bowled: 8099
Runs Conceded: 3072
Wickets taken: 141
Bowling Average: 21.78
Best Bowling Performance: 8/65
5 wicket hauls: 9 times
10 wickets in a Match: 3 times
First Class Cricket
Matches: 213
Runs made: 5395 runs
Batting Average: 19.47
Highest First-Class Score: 107
Balls bowled: 44060
Runs Conceded: 17134
Wickets taken: 929
Bowling Average: 18.44
Best Bowling Performance: 9/39
5 wicket hauls: 69 times
10 wickets in Match: 25 times