Barcelona-Real Madrid match ended as a draw, Ronaldo-Messi stars

The first meet between Barcelona and Real Madrid in 2012-13 La Liga season ended as a draw. Star striker from both teams Messi and Ronaldo did two goals for their team. Know more about this classic contest between two teams.


In the first meet between two top Spanish clubs in 2012-13 La Liga season Barcelona and Real Madrid ended with an exciting draw. The contest between the two teams become Ronaldo-Messi contest as both did two goals ech for their team in a 2-2 draw. Barcelona playing at home (Nou Camp) were having 100 percent success in first six matches this season. On other hand Real Madrid has defeated Deportivo La Coruna by 5-1 in their last match, with Ronaldo making a hat-trick in that match. The contest was set, with an audience of 95,000 witnessing the contest. It was a cracker of game as both top player from their side gave their best.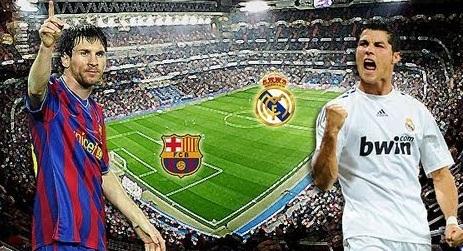 Real Madrid attacks from the start with Ronaldo leading them. In 13th minute, he crossed from the right for Karim Benzema who unable to convert it into goal. In 23rd minute, Benzema fed Ronaldo who with a low left-footed beats Barca goalkeeper Victor Veldas. But soon after that, Barcelona star Lionel Messi level the score with a cross from Pedro Rodriguez. In the second half Messi looks even more dangerous. In 61st minute, he dispatched a brilliant free kick which beats Madrid goalkeeper Casillas. With this goal, Messi also again become the leading goal scorer in this La Liga season with eight goals. Befor that he was equalled with Ronaldo. But Messi has to again share the honor with Ronaldo, as the Portuguese who easily did a goal, with ball from Adriano. Several attempt to the goal were made by both the teams at the end of the match, but it didn't happened in the rest of the match. After this match Real Madrid has now 11 points in seven matches. They are sitting on sixth position while Barcelona is still leading the table with 19 points in seven matches. Second positioned Atletico Madrid is also having 19 points in seven matches but they are having less goal difference as compared to Barcelona. Strikers Lionel Messi and Cristiano Ronaldo are the top goal-scorer in this season with eight goals each.