Profile and Career of former Russian female tennis player Alina Jidkova

Alina Jidkova is a former russian female tennis player. Know about the tennis profile and tennis career of Alina Jidkova through this article. Also know about her career record, highest ranking and career titles.


Alina Jidkova is a former Russian female tennis player. She played professional tennis from 1993 to 2010. Jidkova was born in 118 January, 1977 in Moscow (Russia). Currently she is working as a coach for Kazakhstan female tennis player Galina Voskoboeva.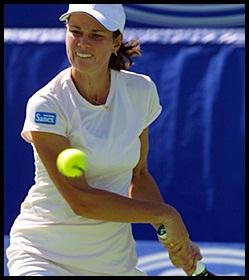 Tennis Profile of Alina Jidkova
Full Name: Alina Jidkova
Date of Birth: 18 January, 1977 at Moscow
Playing Style: Right-handed with two-handed backhand
Singles Record (Win-Loss): 458-410
Doubles Record (Win-Loss): 267-321
Highest Singles Ranking: No. 51
Highest Doubles ranking: No. 50
Tennis Career of Alina Jidkova

She started her professional career in 1993. During her early career, she mostly participated in ITF tournaments. Her first professional title came in 1996 at ITF circuit in doubles. In 1997, she won her first singles ITF title at Culiacen-MEX. In 2002, she reached the semi-final of an WTA title at Memphis. She defeated World No. 17 Amanda Coetzer in that tournament. Jidkova has not won any WTA singles title in her career but she has defeated many top ranked tennis players like Serena Williams, Amanda Coetzer, Jelena Jankovic and Samantha Stosur. In 2005, she won her first WTA title in double at Acapulco partnering Taiana Perebiynis.

Grand Slam Performance
In 2000 Australian Open tournament, Jidkova reached the third round of the singles event where she was defeated by top women's player Lindsay Davenport. This is also her best performance in a Grand Slam tournament in singles event.