Real Madrid become the winner of 2012 Spanish Supercup

Ganzalo Higuain and striker Cristiano Ronaldo set up win for Real Madrid in the second match of the 2012 Spanish Supercup and making them the winner of the cup. Read more about this news in this article.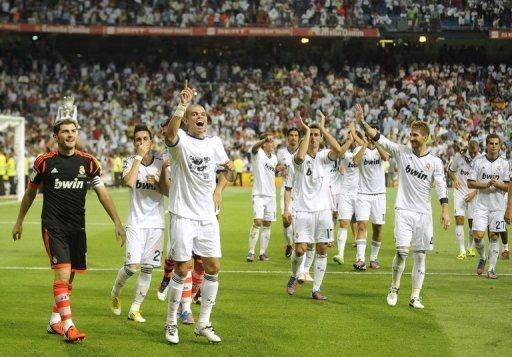 In the second match of the 2012 Spanish Supercup, Real Madrid register a 2-1 win against Barcelona. This also helps the team to have their hands on the cup. In the first match Barcelona defeated Real by 3-2. Ganzalo Higuain and star striker Cristiano Ronaldo Struck goals in the first half of the match in 11the and 19th minutes respectively. From Barcelona Messi did the goal in 44th minute of the game. Barcelona played with 10 men team in the most of the match which reduce their chances in the match. Barcelona played aggressively in the second half but fails to reduce the lead of Real Madrid and ends up on the scoreline of 1-2. The match was played at Santiago Bernabeu Stadium, Madrid. The first match was played at Camp Nou, Barcelona in which the home team become the winner.

Real Madrid grab the cup due to their more away goals then the Barcelona though they were 4-4 equal in all (Barcelona won first match by 3-2). This was the ninth Spanish Supercup of Real Madrid. Barcelona has won it ten times. Barcelona coach congratulated the Real team as - "I congratulate Madrid on their win but I felt proud of our performance with only 10 men, especially in the second half, where we had five good chance to level the game".