Profile and Career of Swiss football player Marco Streller

Marco Streller plays for one of the most popular football club of Swizerland - FC Basel. He has also represented Switzerland Football National Team. Know about his profile and career of this talented football player from Switzerland.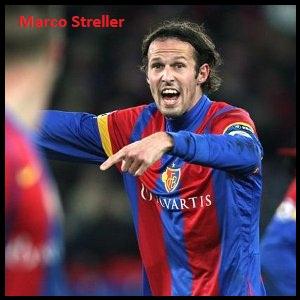 Marco Streller is a football player from Switzerland. He currently plays for FC Basel, the most popular football club in Switzerland. He has also made 37 appearances for his national team and has 12 international goals in his name.

Full Name: Marco Streller
Birth Date: 18 June, 1981 at Basel, Switzerland
Clubs he played for: Fc Basel, FC Concordia Basel, FC Thun, Vfb Stuttgart, 1. FC Koln
International Debut: in 2003
International Appearances: 37
Football Career of Marco Streller

Streller was associated with FC Aesch and FC Arlesheim in his youth career. In 2000, he joined FC Basel club. Initially he didn't get enough matches to play for the club and only made rare appearances. In 2001 season, he played for FC Concordia Basel where he scored 16 goals in 30 matches. In his next season he played for FC Thun. In 2004, Streller associated himself with Vfb Stuttgart club and played till 2007. In between this period he also loaned to 1. FC Koln in 2006. The club won German League in 2006-07 and become the runners-up of 2006-07 German Cup during his association with club.
Return to FC Basel
In 2007, streller again started to play for FC Basel and still playing for the club. He was more successful in this period. In his returning season he was the top goal scorer with 16 goals among them 12 are in Swiss Super League. During his association with club, FC Basel won Swiss Super League titles for five times and Swiss Cup three times. He made 138 appearances for FC Basel from 2007 to now and scored 66 goals. He is fifth in the list of top goal scorer for the club with 79 goals. He was the captain of the team in 2011-12 season.


International Career of Marco Streller

Marco Streller has played 37 matches for Switzerland National Football team. His international debut came in 2003. His firts goal for Switzerland came against Turkey in a 2-3 defeat in 2006 World Cup Qualifier match. In the same year Streller scored two goals in a friendly match against China played at Hardturm, Zurich. In 2007, he again score two goals in a match against Austria in 3-1 win.


Statistics: Goals and Appearances
FC Basel: 79 Goals in 158 Matches
Concordia Basel: 16 Goals in 30 Matches
FC Thun: 8 Goals in 16 Maches
Vfb Stuttgart: 9 Goals in 55 Matches
1. FC Loln 3 Goals in 14 Matches
Switzerland National Football Team: 12 goals in 37 Matches