Gagan Narang Biography and Career Profile: Ace Rifle Shooter at London Olympics 2012

Read the wiki biography of Gagan Narang, Ace Indian rifle Shooter profile at a glance to know about Gagan Narang career profile, personal information, awards and achievements and more.


Gagan Naran is an ace Indian Shooter the first qualifier in India for London Olympics 2012 has cherished bronze medal in 10m Air Rifle event at olympics 2012. Let's know more about the life of Gagan Narang from this biography and his achievements and awards.


Gagan Narang biography, personal profile and contact details

The birth date of Gagan Narang is 06 May, 1983. So the present age of Gagan Narang is 29 years whose height is 5 feet 11 inches and weight is 97 kgs.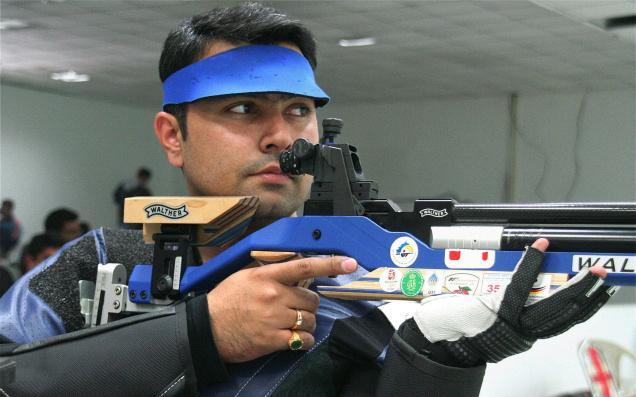 Chennai is the birth place of Gagan Narang, present residence is at Hyderabad. His parents are Bhimsen Narang and Amarjit. From his childhood he loves to watch cricket and tennis. Gagan Narang's shooting prowess was well seen at an carnival held at Chennai Marina Beach where he first shoot down the balloons when he was at his age six. Gagan Narang's favourite movie is 'In Pursuit of Happiness' and Chinese is his favourite cuisine and Gagan's favourite dish is Chole Puri. Want to know more personal information of Gagan Narang, facebook could be the best choice to follow him closely to get the latest news about Gagan Narang.


Gagan Narang career profile: Achievements, medals and awards

The shooting career of Gagan Narang reveals that he started practicing since 1998 and in 2003 at Afro Asian Games at Hyderabd he won the first Gold Medal in Men's 10m air rifle competition. At 2006 Commonwealth Games in Melbourne he captured four gold medals. In 2008 ISSF World Cup Final Gagan won the gold medal in Men's 10m air rifle event which a world record score of 703.5. At 2010 Games in New Delhi he won four gold medals and at Gangzhou Asian Games he won two silver medals. Gagan Narang achievements in Air rifle shooting are well known as he was conferred with 'Padmashree Award' in 2010 and 'Rajiv Gandhi Khel Ratna Award' in 2011 are the awards won by Gagan Narang.




Gagan Narang at London Olympics 2012

Gagan Narang is the first one to open the medal count for India at London Olympics 2012 on July 29 where he shot bronze medal in the 10m Air Rifle Event with a score 701.1. Now all the eyes are on Gagan Narang and Sanjeev Rajput the two Indian contingents contesting in today's shooting event on 6th August 2012 contesting in Men's 50m Rifle 3 Positions Event in London Olympics 2012. To know about latest medal winners, keep checking London Olympics 2012 match results!