Saina Nehwal won Bronze medal for India in London Olympics 2012

Indian shuttle star Saina Nehwal creates history by winning the bronze medal in the women's singles category. She become the first Indian to won a medal in olympics in badminton sports. Her bronze medal now takes the India's number of medals in this olympics to three which is equal to their best which happened in last olympic games held in Beijing.


Saina Nehwal won Bronze medal for India in London Olympics

Indian Badminton star Saina Nehwal become the first medal for India in badminton sports in Olympic history. She won the bronze medal in women's singles event. After losing the semi-final match against World No. 1 ranked Wang Yihan, she was up against World No. 2 ranked Wang Xin in the match for bronze medal. She was declared the winner after Chinese player got an injury after leading 21-18,1-0* in the match.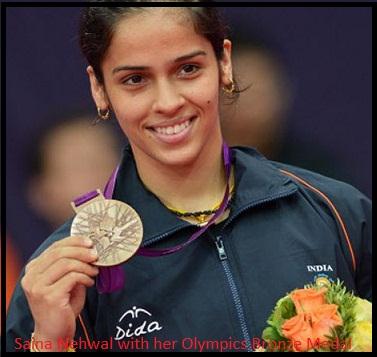 The World No. 4 ranked Saina Nehwal played superbly throughout the event. She defeated Sabrina Jaquet of switzerland and Lianne Tan of Belarus in the group stage matches. She then defeated Yao Jie of Netherlands by 21-14,21-16 in elimination round. In quarterfinal she was the winner against Tine Baun of Denmark with a score reading 21-15,22-20. She then lose the semifinal match against Wang Yihan by a score of 13-21,13-21.

The bronze medal by Saina Nehwal is the third medal for the Indian camp in this Olympic games (London Olympics 2012). The other two medals comes in shooting events. Gagan Narang won bronze medal in Men's 10 m air rifle event while vijay Kumar won silver medal in Men's 25 m rapid fir pistol event. By Saina' bronze India has now equals their best performance in terms of number of medals in an olympic games.