Yi Siling biography & profile: First Gold medal winner of London Olympics 2012 for 10m Air Rifle

Read the wiki biography of Chinese Shooter Yi Siling the first gold medal winner of 10m Air Rifle at London Olympics 2012. Know about the shooting career of Yi Siling, contact profile, personal information and so on.


Yi Siling is a 23 years young Chinese female shooter bagged the first Gold medal for Women 10m air rifle at London Olympics 2012 which was held at Shooting Venue Royal Artillery Barracks in Greenwich London. She scored 502.9 and beat Poland Sylwia Bogacka by 0.7 points. Let us have a look at Chinese Shooter Yi Siling biography, personal profile and contact information and so on.


Biography and Personal Profile of Chinese Shooter Yi Siling

'Shooting Beauty' Yi Siling - As she is been known by that name belongs to Guang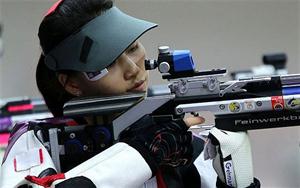 Dong, China. The date of birth of Yi Siling is 6th May, 1989. The present age of Yi Siling is 23 years who is 5 feet 5 inches tall and her weight is 53kg. Yi Siling had her Secondary School education and had her sports education at Zhuhai Sports School in China. At her early age she tried at track and field and she had great interests in dancing but she found herself to be fit for Shooting and thought it was her destiny and she started practicing shooting from 2003. If you find Yi Siling facebook profile or twitter or her email id, you are welcome to update the contact information of Yi Siling.


Yi Siling Shooting career profile, prizes and medals.

Yi Siling Shooting Career started in the year 2007 in Guangdong Province China. She made her debut in 2009. Yi Siling personal coach is Long Shou Bo and Yi Siling's National Coach is Zhang Qiu Yuan. In the International Shooting Sport Federations World Cup Series Yi Siling won Silver in London and Gold in Munich. Now success followed her as she took the Gold medal at London Olympics 2012.




Performance of Chinese Shooter Yi Siling at London Olympics 2012

Yi Siling competed with Bogacka Sylwia, Yu Dan, Emmons Katerina, Gray Jamie Lynn and so on at London Olympics 2012. Everyone at Royal Artillery Barracks wittnessed a nail biting finals where the young Chinese Shooter Yi Siling beat Poland Sylwia Bogacka by 0.7 points and scored 502.9. Bogacka scored 502.2 and bagged Silver medal and Yu Dan on third position bagged bronze medal at Women's 10m air riffle for London Olympics 2012.