Vishnu Vardhan wiki biography & profile, Indian tennis player in Olympics 2012

Read the wiki biography of Vishnu Vardhan here, an Indian tennis player in the London Olympics 2012. Learn about the tennis career of Vishnu Vardhan, biographical details, contact profile, Vishnu Vardhan's personal information and so on.



Indian tennis player Vishnu Vardhan, representing India in the London Olympics 2012, is a 24 years old young tennis player. He is often thought to the be the next big Indian tennis star and is a very talented young guy. A member of the Bronze medal winning Indian tennis squad (men) in the Asian Games 2010 held in Guanzhou, China. Also, Indian tennis player Vishnu Vardhan won the country a silver medal in pair with Sania Mirza. Let us here take a look at the Indian tennis player Vishnu Vardhan's biography, career details, personal information and contact profile. Keep reading!


Biography of Vishnu Vardhan: Bio data and personal information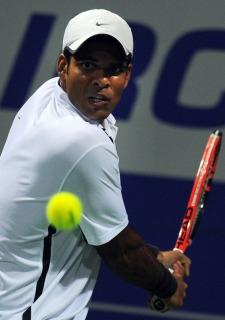 The full name of Vishnu Vardhan is J. Vishnuvardhan. He was born in Secunderabad of Andhra Pradesh. The date of birth of Vishnu Vardhan is 27th July, 1987. Thus, the present age of Vishnu Vardhan while appearing at the London Olympics 2012 is 24 years. He is 6 feet 2 inches tall, and the height of Vishnu Vardhan is definitely a great advantage for this Indian tennis team contestant in the 2012 Olympic Games. The home-town of Vishnu Vardhan is Secundarabad, the twin city of Hyderabad. He started playing tennis at a very early age, when he was just eight years old. Since then he is come a long way. At present the World Ranking of Vishnu Vardhan is 296 at present in the Men's Singles, which shows the hard works and effort Vishnu has put to uplift his tennis career.


Tennis career profile of Vishnu Vardhan, prizes and medals



As we have already observed, Vishnu is considered one of the leading Indian tennis players of the next generation, succeeding Leander Paes and Mahesh Bhupathi. Vishnu represented India in the Davis Cup, where he debuted against Kei Nishikori of Japan but lost unfortunately in a straight set.

In the national level career records, Vishnu Vardhan began to exhibit his talents right from the young age of eight as he performed superbly in the junior circuit. He won the Junion Nationals championship in 2003 and was placed in the Junior Davis Cup Indian team. He has also won the Grass Court Nationals. In 2012, he won the the Zuari Garden City-ITF, playing against Sriram Balaji. Later in June 2012 he also secured win in the Toyota Bangalore Open ITFby defeating Ti-Chen who represented Chinese Taipei.


Vishnu Vardhan's performance in 2012 London Olympics

In 2012 London Olympics, Vishnu Vardhan is representing India in the Men's Doubles category in partnership with the legendary Indian tennis player Leander Paes, who secured Bronze in the Men's Singles in the Atlanta Olympics in 1996. All of us will be eagerly waiting to see how Vishnu Vardhan will perform in London Olympics 2012 in Men's Doubles with Leander Paes. Go Vishnu, go!

Please Note We are yet to find any Twitter or Facebook profile of Vishnu Vardhan. If you have them, kindly mention as a comment below. You are also welcome to upload Vishnu Vardhan (tennis player) email id, mobile number or other contact information.

Check out the complete list of Indian Contestants in London Olympics 2012.