Gisela Dulko - a female tennis player from Argentina

Gisela Dulko is name famous for doubles game in tennis. She is No. 1 ranked player in doubles in 2010. She is the winner of 2011 Australian Open in doubles category. A very talented doubles player, she is also a good singles player.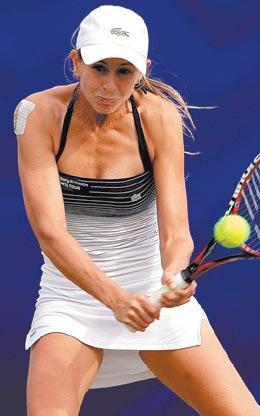 Gisela Dulko is a female tennis player from Argentina who is known for his excellent doubles game and as well as a good singles player. She become world no. 1 women's doubles player in 2010 and remained at the position for 24 weeks before overtaken by Flavia Penetta in 2011 who was also her partner. She has also won one Grand Slam tournament in doubles category of women's tennis.

Full Name: Gisela Dulko
Birth Date and Place: 30 January, 1985 at Tigre, Buenos Aires
Country: Argentina
Tennis Career of Gisela Dulko

Dulko started his tennis career at Junior level. She won four Junior level Grand Slam tournaments in doubles events. In 2001 she become professional player. She won her first WTA doubles title in 2003 at Grand Prix SAR La Princesse Lalla Meryem held at Morocco. Her partener was Maria Emilia Salerni. In 2005, she won three doubles titles. Generali Ladies Linz was the most important among the three. She won two more doubles titles in 2006.
2007-08: Focus on Singles
In 2007 at Budapest Grand Prix tournament she won her first WTA singles title beating Sorana Cirstea of Romania by 6-7,6-2,6-2 in the final. In the same year she won her second WTA singles title at Forest Hills Tennis Classic. This time beating French player Virginie Razzano in the final with a score of 6-2,6-2. She started to focus more on singles rather than doubles during this period. In 2008 she won her third singles title.
2009-Present: Success in Doubles
Dulko again started to play more in doubles in 2009 partenering Flavia Penetta. She won two doubles titles that year, one at Swedish Open. Year 2010 was best for her as she not only won eight WTA doubles titles but also ranked No. 1 in Women's doubles ranking for the first time. Among the eight titles she won that year, the year end WTA Tour Championships held at Doha was the biggest win of her career till that date. She won another big tournament in doubles at 2011 Australian Open where she again partnered Flavia Penetta. They both defeated the pair of Victoria Azarenka and Maria Kirilenko in the final by 2-6,7-5,6-1. In 2011, Dulko also won her fourth singles title at Abierto Mexicano Telcel, Mexico.


Records and Statistics of tennis player Gisela Dulko
Singles Career Record: 300-224 (57%)
Singles Titles: 4 WTA and 6 ITF
Doubles Career Record: 273-160
Doubles Titles: 17 WTA and 6 ITF
Highest Singles Ranking: No. 26 in 2005
Highest Doubles Ranking: No. 1 in 2010
Tournaments won by Gisela Dulko
In Singles
In 2007 - Budapest Grand Prix (2007), Forest Hills Tennis Classic (2007)
In 2008 - Grand Prix SAR La Princesse Lalla Meryem (2008)
In 2011 - Abierto Mexicano Telcel (2011)
In Doubles
In 2003 - Grand Prix SAR La Princesse Lalla Meryem (2003)
In 2005 - AIG Japan Open Tennis Championships (2005), PTT Bangkok Open (2005), Generali Ladies Linz (2005)
In 2006 - Copa Colsanitas (2006), Cincinnatti Masters (2006), Bank of West Classic (2006)
In 2009 - Moorilla Hobart International (2009), Swedish Open (2009)
In 2010 - Copa Sony Ericsson Colsanitas (2010), Sony Ericsson Open (2010), Porsche Tennis Grand Prix (2010), Internationali BNL d'Italia (2010), Swedish Open (2010), Rogers Cup (2010), Kremlin Cup (2010), WTA Tour Championships (2010)
In 2011 - Australian Open (2011)