Royal Challengers Bangalore IPL 2012: Online ticket booking, price and match schedules

Want to buy Royal Challengers Bangalore online tickets for IPL 5 2012? Get in here to know about ticket availability status, price details and match schedules and fixtures for RCB IPL 2012 matches at Chinnaswamy stadium Bangalore.


Tickets for Royal Challengers Bangalore for IPL 2012 has started. Are you a fan of RCB Team and would like to watch the live matches of RCB team for IPL 2012, then you can buy IPL 2012 RCB tickets online or you can get them from Bangalore Chinnaswamy Stadium where you can enjoy watching all the eight RCB home matches for IPL Season 5. Here we have provided the RCB IPL 2012 match schedule played at Chinnaswamy Stadium and also given the ticket price details for RCB matches for IPL 5 which helps you on how to book tickets for all RCB IPL 2012 Bangalore matches.


Royal Challengers Bangalore IPL 2012: Match schedules, fixtures and timings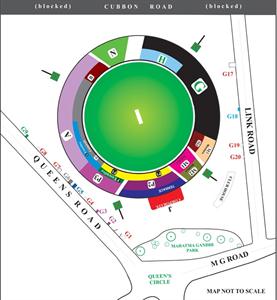 Apr 07 - 4 pm - Royal Challengers Bangalore Vs Delhi Daredevils


Apr 10 - 4 pm - Royal Challengers Bangalore Vs Kolkata Knight Riders


Apr 15 - 8 pm - Royal Challengers Bangalore Vs Rajasthan Royals


Apr 17 - 8 pm - Royal Challengers Bangalore Vs Pune Warriors India


Apr 25 - 8 pm - Royal Challengers Bangalore Vs Chennai Super Kings


May 02 - 8 pm - Royal Challengers Bangalore Vs Kings XI Punjab


May 06 - 8 pm - Royal Challengers Bangalore Vs Decann Chargers


May 14 - 4 pm - Royal Challengers Bangalore Vs Mumbai Indians
RCB IPL 2012 online ticket prices and availability details

When compared to other cities the ticket prices for IPL 2012 is comparatively higher in Bangalore. Here is the ticket price detais for IPL 5 RCB for various ticket types at Bangalore Stadium.
RCB IPL 5 ticket prices at ticketgenie:

Black Dog Pavillion (P2) - Rs. 55000
Royal Challenge Pavillion (P Executive) - Rs. 15400
Royal Challenge Executive Lounge (E) - Rs. 5500
Royal Challenge Terrace (T) - Rs. 4400
Royal Challenge Fan Terrace (N) - Rs. 3300
Black Dog Pavillion (P1) - Rs. 2750
Royal Challenge 'D' Corporate - Rs. 2200
Royal Challenge Pavillion (P3) - Rs. 1650
Bagpiper Special View (H) - Rs. 1375
McDowells Best View (B) - Rs. 1650
McDowells Best View (A) - Rs. 1100
Antiquity Members Stand (M3) - Rs. 2200

RCB IPL 2012 Ticket Prices at Spiritzandmore:

Black Dog Pavillion (P2) - Rs. 55000
Black Dog Corporate Lounge (J) - Rs. 33,000
Royal Challenge Pavillion (P Executive) - Rs. 15400
Royal Challenge Executive Lounge (E) - Rs. 5500
Royal Challenge Terrace (T) - Rs. 4400
Royal Challenge Fan Terrace (N) - Rs. 3300
Black Dog Pavillion (P1) - Rs. 2750
Royal Challenge 'D' Corporate - Rs. 2200
Royal Challenge Pavillion (P3) - Rs. 1650
Bagpiper Special View (H) - Rs. 1375
McDowells Best View (B) - Rs. 1650
McDowells Best View (A) - Rs. 1100
Antiquity Members Stand (M3) - Rs. 2200
How to book RCB tickets for all matches for IPL 2012

RCB fans can now book tickets online for RCB matches held at Bangalore through official ticketing partner at ticketgenie and through spiritzandmore.

To buy RCB IPL 2012 tickets online from ticketgenie:



To buy RCB IPL 5 online tickets from spiritzandmore: