Cricket Career, Profile and Records of former Indian cricketer Polly Umrigar

Polly Umrigar is one of the legendary name of Indian cricket. He hits century in the first ever victory of India in Test cricket. He also captained India in eight Tests. One of the greatest batsman of his time, Polly Umrigar was the most profilic batsman at the time of his retirement from Test Cricket.


Polly Umrigar was a former Indian cricketer who when retired from Test cricket was highest run-scorer for India and also highest century scorer for India. Umrigar was a right-hand batsman in the middle-order who can also bowl occassionally. He was born in Sholapur (Maharashtra) on 28 March, 1926.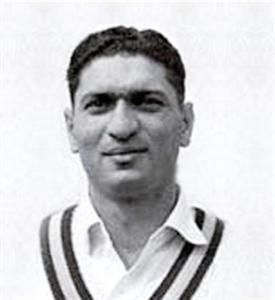 Full Name: Pahlan Ratanji Umrigar
Birth Date: 28 March, 1926
Died On: 7 November, 2006
Batting Style: Right-Hand Batsman
Role in the Team: Middle-order Batsman
Teams: India, Gujarat, Bombay
Test Debut: 9 Dec, 1948 against West Indies at Mumbai
Test Career of Polly Umrigar

Polly Umrigar made his Test debut in a match against West Indies in 1948. In 1950-51, he made his first century against England at home providing India their first ever victory in Test cricket. He made a brilliant 130*. 1952 was not a good year for Umrigar, he even fails to score a single 50 plus score in most of the matches. In 1952-53, he came back to his form. He scored many runs against West Indies that year in West Indies. In 1955, at Hyedrabad he played an inning of 223 runs against New Zealand Team. His inning was the first double hundred by an Indian in Test matches.
Captaincy
In 1955-56, he captained India in Test matches for the first time. He captained the Indian Test team for eight consecutive matches with two wins. He resigned from captaincy in 1958-59 due to some disputes but continued to play as a player. He made a brilliant century of 118 against England at Old Trafford. In 1960-61, he again played brilliantly against Pakistan scoring three centuries. In 1962 against West Indies in West Indies he played one of the finest innings of his career at Port of Spain. He made an unbeaten 172 runs in the India's second innings. After this series, he retired from Test cricket. At the time of retirement he has scored 3631 runs in 59 Tests for India including 12 hundreds.
Bowling
Apart from his excellent batting, Umrigar was also a very good bowler. There was two occassions when he took five-wicket haul in an inning. His best bowling figure is 6/74 whcih came against Pakistan at Bahawalpur. He used to bowl medium pace bowling and sometimes off-spin bowling.
Test Record
Batting: Matches - 59, Innings - 94, Runs - 3631, Batting Average - 42.22, Centuries - 12, Half Centuries - 14, Top Score - 223
Bowling: Balls bowled - 4725, Runs Given - 1473, Wickets taken - 35, Bowling Average - 42.08, Best Bowling Figure - 6/74


First-Class Career

Umrigar had a very long first-class career. He usually played for Bombay in domestic cricket. He also captained the Bombay Team which won two Ranji Trophy titles. He is one of the few players who has scored 1000 runs in an Indian domestic season. He had a great first-class record. His batting average in more than 50 and his bowling average is also very impressive. He took per wicket at the cost of only 25 runs.