Profile, Career and Records of Swedish professional tennis player Jonas Bjorkman

Nine time grand slam winner in doubles, Jonas Bjorkman is one of the great doubles player in tennis world. This former tennis player is also good in singles and have been No. 4 in singles ranking in 1997. to know more about this tennis player, read the following article.


Jonas Bjorkman is a former professional male tennis player from Sweden. He was World No. 1 in doubles rankings in 2001. He is the winner of nine Grand Slam titles in doubles with Career Grand Slam achievement. Not only in doubles, Jonas Bjorkman was also a good singles player and have won six singles titles in his career.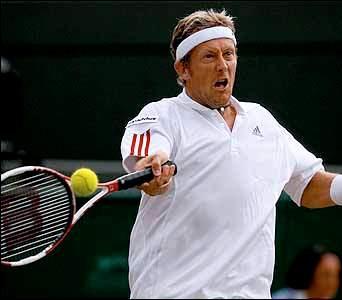 Tennis Career of former male tennis player Jonas Bjorkman
Early Career: 1991-1996
Jonas Bjorkman started playing professional tennis in 1991. At ATP Prague in 1992, he reached to his first final in any doubles where he lost to australian player Jon Ireland. In 1993, he again played two finals in doubles with rare success in singles. 1994 was a successful year for him, as he went on to win seven doubles titles. First win came at ATP Jakarta, which was also his first doubles title of his career. Other wins came at Swedish Open, ATP Schenectady, ATP Antwerp, Tennis Masters Cup, Queen's Club Championships and ATP Rotterdam. In 1995 and 1996, he continued with his good form in doubles event. He won five more doubles titles in this period but no title in singles.
1997-2008
At the start of 1997, Jonas Bjorkman won his first singles title at Heineken Open defeating Kenneth Carlsen of Denmark in the final. He won two more singles title that year - first at Indianapolis Tennis Championships and second at Stockholm Open. He also won a doubles event at Verizon Tennis Challenge that year. In 1998, Bjorkman won his first Grand Slam title in doubles which came at Australian Open. He with his partener Jacco Eltingh defeated the pair of Todd Woodbridge & Mark Woodforde in the final by 6-2,5-7,2-6,6-4,6-3.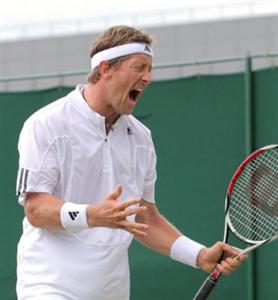 He won the 1999 Australian Open defending his title and again won it in 2001 where his partener was Todd Woodbridge. He also reached his Highest ranking in doubles of No. 1 in 2001. His next Grand Slam win in doubles came at 2002 Wimbledon tournament again partenering Todd Woodbridge. Max Mirnyi was another player who has partenered him in Grand Slam wins. In 2006, he reached to the semifinal of the 2006 Wimbledon tournament in singles. This was second time he had advanced to the semi-final of any Grand Slam tournament in singles event. In 2008, Bjorkman retired from professional tennis.
Team Appearances
Jonas Bjorkman has also represented Sweden in Davis Cup from 1994 until his career. He has a very good record in Davis Cup.


Grand Slam Wins of former male tenni player Jonas Bjorkman

Jonas Bjorkman hs won the follwing Grand Slam Tournaments throughout his tennis career -
In Doubles:
1998 Australian Open
1999 Australian Open
2001 Australian Open
2002 Wimbledon
2003 Wimbledon
2003 U.S. Open
2004 Wimbledon
2005 French Open
2006 French Open
Tennis Profile of former male tennis player Jonas Bjorkman
Full Name - Jonas Bjorkman
Birth Date - 23 March, 1972
Birth Place - Alvesta (Sweden)
Turned Professional in - 1991
Retired in - 2008
Playing Style - Right Handed
Career Prize Money - $14,567,823
Records and Statistics of former male tennis player Jonas Bjorkman
In Singles
Career Record: 414-362 (52.67 %)
Highest Ranking in Singles: No. 4 in 1997
Career Titles: 6

Heineken Open (1997)
Indianapolis Tennis Championships (1997)
Stockholm Open (1997)
Nottingham Open (1998)
Nottingham Open (2002)
Vietnam Open (2005)

Grand Slam Best Results:

Australian Open: Quarter-finalist in 1998 and 2002
French Open: Reached fourth round in 1996 and 2007
Wimbledon: Semi-finalist in 2006
US Open: Semi-finalist in 1997
In Doubles
Career Record: 708-304 (69.96 %)
Highest Ranking in Doubles: No. 1 in 2001
Career Titles: 54
Grand Slam Best Results:

Australian Open: Winner in 1998, 1999 and 2001
French Open: Winner in 2005 and 2006
Wimbledon: Winner in 2002, 2003 and 2004
US Open: Winner in 2003