Praveen Kumar, Profile, cricket career and records

Praveen Kumar has risen as one of the most prominent swing aspect of Indian cricket team. The pace battery of Indian team is incomplete without Praveen Kumar. Praveen Kumar is gifted with some wonderful natural ability of swing which makes him the lethal bowler to play. Earlier, he was considered as a bowler of ODIs and T20 but he has proven his worth in the test matches also this year.


The art of swinging the bowl is dreamed by every fast bowler but there are very few in this world who has mastered this art of swing bowling. Praveen Kumar is one of these few bowlers who know this magic of swinging the delivery both ways. The combination of Praveen with Zaheer is one of the most deadly and lethal combination of the opening bowling of the world of cricket at present. The best thing in the bowling of Praveen is that he can swing the bowl both ways according to his will.

Praveen Kumar one of the most eligible bachelor of the nation has one girl friend too. I think this information of having girlfriend will break the heart of many Indian girls. This secret of having a girl friend is revealed by Praveen Kumar himself in one of his interviews.

Praveen Kumar is born in the family of wrestlers where he was forced to join the tradition of the family. But this young lad of Uttar Pradesh has a craze of cricket in his mind. He refused to opt wrestling instead decided to join cricket. Praveen Kumar had never thought to be as successful as he is at present. In his one of the interviews he told that he had an aim of playing for the state team and then to enjoy a government job. But it was his ability which brought him so far in the game of cricket.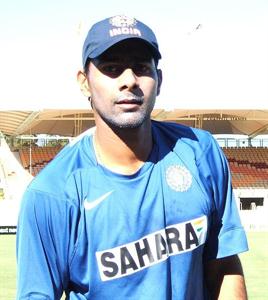 Profile of cricketer Praveen Kumar

Praveen Kumar, one of the most shying faces of Indian cricket team has very much information to share with his fans. Here I am revealing few of them.

Full name – Praveen Kumar Sakat Singh

Date of Birth- 2nd of October, 1986. He is born in Meerut, Uttar Pradesh.

Major teams played by Praveen Kumar- India, Air India, Kings X1 Punjab, Royal Challenger Bangalore, Uttar Pradesh and India red.

Batting Style- Right handed Batsman

Bowling Style- Right hand medium
Domestic cricket career of Praveen Kumar

Praveen Kumar made his debut in the Ranji trophy at an age of 18 in 2004. Praveen started playing for Uttar Pradesh. From the very first match he impressed everyone with the amount of swing he produced on deadly Indian pitches. Praveen bowled with a bowling average of less than 25 in the Ranji sessions. With such a good performance in the Ranji, he was selected for the Under 19 world cup team.
But, when he was almost there on the verge of a call from the national team, he made the biggest mistake of his career. Praveen Kumar signed the contract of ICL (Indian Cricket League) and was almost certain to play for them. ICL the biggest rival of BCCI could have destroy the career of Praveen Kumar, but soon he realized his mistake and quit the decision to play for the same. This decision was the turning point for the career of Praveen Kumar and he started playing for the Uttar Pradesh.


International Career of Praveen Kumar

Praveen Kumar, with a promising performance in the domestic circuit secured his birth in the national squad. Praveen made his international debut in November 2007 against Pakistan. Although, he was not able to impress in the first two matches but still somehow he was able to safe guard his birth for the upcoming commonwealth bank series. In that series he took 8 wickets against Australia in two matches. He won two Man of the Match awards in that series. After the commonwealth series, Praveen never saw back and now is the integral part of the Indian cricket team.
In the earlier days of career, he was criticized for his slow pace but he silenced his every critic by developing the more lethal swing at the cost of pace. The pace with Praveen Kumar is climbing the ladder of success; soon he will be in the list of great Indian fast bowlers.
Praveen Kumar himself wants to be a successful all-rounder. His ideal in the cricket is Kapil Dev and Praveen dream to be as successful as like him. I wish this talented cricketer all the very best for his rest of cricketing career.


Batting record of Praveen Kumar

a) Batting record of Parveen Kumar in ODIs-

Matches- 62

Runs- 291

Highest score- 54 not out

Centuries- 0

Average- 14.55

Strike rate- 88.90

b) Batting record of Praveen Kumar in test matches-

Matches- 6

Innings- 10

Runs- 149

Highest score- 40

Centuries- 0

Average- 14.90

c) Batting record of Praveen Kumar in T20Is-

Matches- 9

Innings- 3

Runs- 7

Highest score- 6

Centuries- 0

Average- 2.33

d) Batting record of Praveen Kumar in first-class matches-

Matches- 45

Innings- 72

Runs- 1607

Highest score- 98

Centuries- 0

Average- 23.63
Bowling records of Praveen Kumar

a) Bowling record of Praveen Kumar in ODIs-

Matches- 62

Innings- 61

Wickets- 69

Best bowling in inning- 4/31

Average- 35.34

Economy- 5.03

b) Bowling record of Praveen Kumar in Tests-

Matches- 6

Wickets- 27

Best bowling in inning- 5/106

Best bowling inning- 7/169

Average- 25.81

Economy- 2.59

c) Bowling record of Praveen Kumar in T20Is-

Matches- 9

Innings- 9

Wickets- 8

Best bowling in inning-2/14

Average- 21.37

Economy- 7.12

d) Bowling record of Praveen Kumar in first class matches-

Matches- 45

Innings- 84

Wickets- 201

Best bowling in inning- 8/68

Average- 23.57

Economy- 2.76