Profile, Career and Records of former professional male Tennis player Richard Fromberg

This article is about the former professional male tennis player Richard Fromberg, who is from Australia. He has four career titles in singles and two titles in doubles. Here is the detailed information about Richard Fromberg.


Tennis career of Australian Tennis player Richard Fromberg
Richard Fromberg is an former Australian tennis player who played professional tennis from 1988 to 2005. He started playing tennis at very young age. At the age of 10, he made to the final of both singles and doubles at Australian Open Juniors tournament.

He turned professional in 1988, and won his first career title at ATP Bolonga Outdoor tennis event in 1990. He won three more singles title after this. His performance at Grand Slam tournaments was also decent. He reached to the fourth round of the Australian Open singles event two times first in 1993 and second in 1998, which is also his best performance at any Grand Slam tournament. His Davis Cup record is quite fantastic with 10 wins in comparison to only 4 losses. In 1990 Davis Cup final, he defeated Michael Chang against United States but lost to top tennis player Andre Agassi. He was in two Davis Cup finalist Australian Team.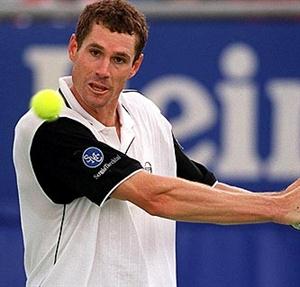 Tennis Profile of former Australian Tennis player richard Fromberg
Full Name - Richard Fromberg
Birth Date - 28 April, 1970
Birth Place - Ulverstone, Tasmania (Australia)
Turned Professional in - 1988
Retired in - 2005
Playing Style - Right Handed
Records and Statistics of former Australian Tennis player Richard Fromberg
In Singles
Career Record: 256-287 (47.14 %)
Highest Ranking in Singles: No. 24 in 1990
Career Titles: 4

ATP Stratton Mountain (1991)
ATP Bologna Outdoor (1990)
Swedish Open (1990)
Wellington Classic (1991)

Grand Slam Best Results:

Australian Open - 4th Round in 1993 and 1998
French Open - 3rd Round in 1993
Wimbledon - 3rd Round in 1994
US Open - 3rd Round in 1992, 1993, 1994, 1999 and 2000
In Doubles
Career Record: 30-53 (36.14 %)
Highest Ranking in Singles: No. 159 in 1998
Career Titles: 2

ATP Schenectedy (1990)
Austrian Open (1997)