IPL 2012 schedule, fixtures & time table with venues

Looking for IPL 2012 schedule? IPL 5 2012 T20 tournament is going to commence from April 2012. Get here the complete IPL 2012 schedule timetable, fixtures and timings and also know about venues, opening ceremony, IPL auction 2012 date many more.


Indian Premier League (IPL) since it's inception in the year 2008, has attracted the entire cricket fans in India as well as around the world to watch out desperately for this biggest sporting event. Now it's time for IPL 2012, the much awaited T20 tournament is all set to take place on 4th April, 2012. The opening ceremony of IPL 2012 will be in Chennai on 3rd April, 2012 one day before the inaugural match between Chennai Super Kings and Mumbai Indians at 8.00 PM at MA Chidambaram Stadium, Chepauk which is also going to host the finals of IPL 5 2012 on 27th May, 2012.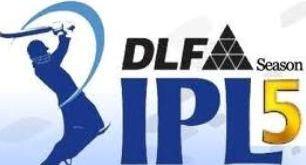 The Indian Premier League (IPL) 2012 will have 76 matches played across twelve venues which features nine franchisee teams instead of ten as Kochi Tuskers Kerala, which made its debut in 2011, has been left out in this tournament for non-payment issues.

Like IPL 4, IPL 5 2012 will have two groups split into Group A and Group B. The tentative teams in Group A will have Deccan Charges, Kings XI Punjab, Delhi Daredevils, Pune Warriors and Mumbai Indians. The tentative teams in Group B consists of Chennai Super Kings, Rajasthan Royals, Royal Challengers Bangalore and Kolkata Knight Riders. The play off will be hosted by Bangalore and Chennai.

Cricket fans are eagerly waiting to know about latest news on IPL 2012 to know more about IPL 2012 auction date which is fixed on February 4th, 2012 for which the IPL auction 2012 players list will be determined. It is heard that players from Kochi Tuskers who was terminated before is expected to be part of the auction. We will update latest news on IPL 5, as soon as we get more information about IPL 2012. Meanwhile have a look at the schedule, timetable and match fixtures of IPL 2012 here, which helps you to book your IPL 2012 tickets in advance to watch your favourite matches.


IPL 2012 fixtures, match schedule and venues

April 4 Chennai Super Kings vs Mumbai Indians
Time: 8pm Venue: Chennai

April 5 Kolkata Knight Riders vs Delhi Daredevils
Time: 8pm Venue: Kolkata

April 6 Mumbai Indians vs Pune Warriors India
Time: 4pm Venue: Mumbai
Rajasthan Royals vs Kings XI Punjab
Time: 8pm Venue: Jaipur

April 7 Royal Challengers Bangalore vs Delhi Daredevils
Time: 4pm Venue: Bangalore
Deccan Chargers vs Chennai Super Kings
Time: 8pm Venue: Vizag

April 8 Rajasthan Royals vs Kolkata Knight Riders
Time: 4pm Venue: Jaipur
Pune Warriors India vs Kings XI Punjab
Time: 8 pm Venue: Pune

April 9 Deccan Chargers vs Mumbai Indians
Time: 8pm Venue: Vizag

April 10 Royal Challengers Bangalore vs Kolkata Knight Riders
Time: 4 pm Venue: Bangalore
Delhi Daredevils Chennai Super Kings
Time: 8 pm Venue: Delhi

April 11 Mumbai Indians vs Rajasthan Royals
Time: 8pm Venue: Mumbai

April 12 Chennai Super Kings vs Royal Challengers Bangalore
Time: 4pm Venue: Chennai
Kings XI Punjab vs Pune Warriors India
Time: 8pm Venue: Mohali

April 13 Kolkata Knight Riders vs Rajasthan Royals
Time: 8pm Venue: Kolkata

April 14 Delhi Daredevils vs Deccan Chargers
Time: 4pm Venue: Delhi
Pune Warriors India vs Chennai Super Kings
Time: 8pm Venue: Pune

April 15 Kolkata Knight Riders vs Kings XI Punjab
Time: 4pm Venue: Kolkata
Royal Challengers Bangalore vs Rajasthan Royals
Time: 8pm Venue: Bangalore

April 16 Mumbai Indians vs Delhi Daredevils
Time: 8pm Venue: Mumbai

April 17 Rajasthan Royals vs Deccan Chargers
Time: 4pm Venue: Jaipur
Royal Challengers Bangalore vs Pune Warriors India
Time: 8pm Venue: Bangalore

April 18 Kings XI Punjab vs Kolkata Knight Riders
Time: 8pm Venue: Mohali

April 19 Deccan Chargers vs Delhi Daredevils
Time: 4pm Venue: Hyderabad/Cuttack
Chennai Super Kings vs Pune Warriors India
Time: 8pm Venue: Chennai

April 20 Kings XI Punjab vs Royal Challengers Bangalore
Time: 8pm Venue: Mohali

April 21 Chennai Super Kings vs Rajasthan Royals
Time: 4pm Venue: Chennai
Delhi Daredevils vs Pune Warriors India
Time: 8pm Venue: Delhi

April 22 Mumbai Indians vs Kings XI Punjab
Time: 4pm Venue: Mumbai
Deccan Chargers vs Kolkata Knight Riders
Time: 8pm Venue: Hyderabad / Cuttack

April 23 Rajasthan Royals vs Royal Challengers Bangalore
Time: 8pm Venue: Jaipur

April 24 Pune Warriors India vs Delhi Daredevils
Time: 4pm Venue: Pune
Kolkata Knight Riders vs Deccan Chargers
Time: 8pm Venue: Kolkata

April 25 Kings XI Punjab vs Mumbai Indians
Time: 4pm Venue: Mohali
Royal Challengers Bangalore vs Chennai Super Kings
Time: 8pm Venue: Bangalore

April 26 Pune Warriors vs India Deccan Chargers
Time: 8pm Venue: Pune

April 27 Delhi Daredevils vs Mumbai Indians
Time: 8pm Venue: Delhi

April 28 Chennai Super Kings vs Kings XI Punjab
Time: 4pm Venue: Chennai
Kolkata Knight Riders vs Royal Challengers Bangalore
Time: 8pm Venue: Kolkata

April 29 Delhi Daredevils vs Rajasthan Royals
Time: 4pm Venue: Delhi
Mumbai Indians vs Deccan Chargers
Time: 8pm Venue: Mumbai

April 30 Chennai Super Kings vs Kolkata Knight Riders
Time: 8pm Venue: Chennai

May 1 Deccan Chargers vs Pune Warriors India
Time: 4pm Venue: Hyderabad
Rajasthan Royals vs Delhi Daredevils
Time: 8pm Venue: Jaipur

May 2 Royal Challengers Bangalore vs Kings XI Punjab
Time: 8pm Venue: Bangalore

May 3 Pune Warriors vs India Mumbai Indians
Time: 8pm Venue: Pune

May 4 Chennai Super Kings vs Deccan Chargers
Time: 8pm Venue: Chennai

May 5 Kolkata Knight Riders vs Pune Warriors India
Time: 4pm Venue: Kolkata
Kings XI Punjab vs Rajasthan Royals
Time: 8pm Venue: Mohali

May 6 Mumbai Indians vs Chennai Super Kings
Time: 4pm Venue: Mumbai
Royal Challengers Bangalore vs Deccan Chargers
Time: 8pm Venue: Bangalore

May 7 Delhi Daredevils vs Kolkata Knight Riders
Time: 8pm Venue: Delhi

May 8 Pune Warriors India vs Rajasthan Royals
Time: 4pm Venue: Pune
Deccan Chargers vs Kings XI Punjab
Time: 8pm Venue: Hyderabad

May 9 Mumbai Indians vs Royal Challengers Bangalore
Time: 8pm Venue: Mumbai

May 10 Rajasthan Royals vs Chennai Super Kings
Time: 8pm Venue: Jaipur

May 11 Pune Warriors India vs Royal Challengers Bangalore
Time: 8pm Venue: Pune

May 12 Kolkata Knight Riders vs Mumbai Indians
Time: 4pm Venue: Kolkata
Chennai Super Kings vs Delhi Daredevils
Time: 8pm Venue: Chennai

May 13 Rajasthan Royals vs Pune Warriors India
Time: 4pm Venue: Jaipur
Kings XI Punjab vs Deccan Chargers
Time: 8pm Venue: Mohali

May 14 Royal Challengers Bangalore vs Mumbai Indians
Time: 4pm Venue: Bangalore
Kolkata Knight Riders vs Chennai Super Kings
Time: 8pm Venue: Kolkata

May 15 Delhi Daredevils vs Kings XI Punjab
Time: 8pm Venue: Delhi

May 16 Mumbai Indians vs Kolkata Knight Riders
Time: 8pm Venue: Mumbai

May 17 Kings XI Punjab vs Chennai Super Kings
Time: 4pm Venue: Dharamsala
Delhi Daredevils vs Royal Challengers Bangalore
Time: 8pm Venue: Delhi

May 18 Deccan Chargers vs Rajasthan Royals
Time: 8pm Venue: Hyderabad

May 19 Kings XI Punjab vs Delhi Daredevils
Time: 4pm Venue: Dharamsala
Pune Warriors India vs Kolkata Knight Riders
Time: 8pm Venue: Pune

May 20 Deccan Chargers vs Royal Challengers Bangalore
Time: 4pm Venue: Hyderabad
Rajasthan Royals vs Mumbai Indians
Time: 8pm Venue: Jaipur

Play Off Week:
May 22 Qualifier 1: First Placed Team vs Second Placed Team
Time: 8pm Venue: Bangalore

May 23 Eliminator: Third Placed Team vs Fourth Placed Team
Time: 8pm Venue: Bangalore

May 25 Qualifier 2: Winner of Eliminator vs Loser of Qualifier1
Time: 8pm Venue: Chennai

May 27 Final: Winner of Qualifier 1 vs Winner of Qualifier 2
Time: 8pm Venue: Chennai