Biography and profile of Umesh Yadav - Indian fast bowler

This article gives you all information about Umesh yadav who is recently selected in Indian team as fast bowler. More details about the biography, profile and career records of Umesh Yadav are quoted in this article. Read the article full for more details.


Biography of Umesh Yadav

Umesh Yadav is the latest fast bowler for Indian cricket. Umesh Yadav was born in Chandrapur, Maharashtra, India. He was born in the year 25th October 1987. Umesh Yadav played 6 one day matches for India and currently selected for test matches against West Indies for India. Umesh Yadav made his test match debut in the year 6th November 2011 against West Indies and started his One day cricket from the year 2010 May 28 against Zimbabwe. Yadav is now playing for Vidarbha.Yadav made his first class debut in Ranji trophy. Umesh Yadav is playing for Delhi dare devils in IPL team.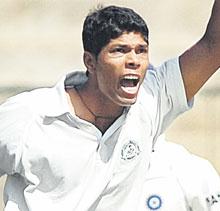 Yadav is right handed fast bowler and a right handed batsman. His IPL debut was against Chennai Super Kings in the year 2010. There is not much consistent fast bowlers for India except one or two and let's hope Umesh Yadav will be one who provide consistent performance for Indian cricket. Yadav has got great skill in swing and pace bowling. He bowled at a pace of 143.3 kmph. More details about the profile and career records of Umesh yadav are given below.


Profile of Umesh Yadav

Umesh Yadav full name: Umeshkumar Tilak Yadav

Umesh Yadav birth place: Chandrapur, Maharashtra,

Umesh Yadav birth date: 25/10/1987

Umesh Yadav Test debut: 6th November 2011

Umesh Yadav ODI debut: 28th May 2010

Batting style: right handed bats man

Bowling style: right hand fast bowler

Umesh Yadav domestic team: Vidarbha


Career records of Umesh Yadav

Umesh Yadav is recently selected in Indian team. He played 6 one day, 1 test match and 14 ipl matches. More details about his short career is given below.

Test cricket

Matches played: 1 match

overs bowled: 26 overs

Wickets taken: 2 wickets

Best performance: 2/36

ODI cricket

Matches played: 6 match

overs bowled: 45 overs

Wickets taken: 5 wickets

Best performance: 2/32

IPL cricket

Matches played: 14 match

overs bowled: 42 overs

Wickets taken: 8 wickets

Best performance: 2/24