Profile, Career and Records of Hungarian Tennis Player Melinda Czink

This article is about Hungarian female tennis player Melinda Czink who was born in Budapest, Hungary and started playing professional tennis in 2006. Here is provided the profile, tennis career and records of this player. Also about her best rankings in singles and doubles.


Melinda Czink is a Hungarian female tennis player having won 1 WTA Singles title and 20 ITF Singles titles. Born in Budapest (Hungary), on 22 October 1982 Melinda is living in New York (United States).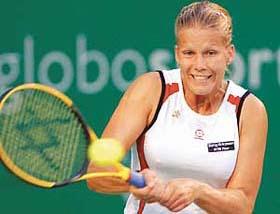 Tennis Career of Female Tennis Player Melinda Czink

Melinda Czink starts playing professional tennis in 2000 and is still an active tennis player. Her starting career was not too impressive and she moves to the Top 100 of the women's singles ranking in 2003, after a long period from her debut as a professional player. She reached to the Third round of the US Open , one of the four Grand Slam Tournaments held annually.

She regularly won many ITF singles tournaments, but her biggest achievement came when she beats Lucie Safarova in the finals to win her first WTA Tour title at Quebec City 2009. This is only WTA title of her career till now. She also moves to Top 50 of the WTA Singles Ranking. She also repeated her best Grand Slam performance by reaching to the Third Round of the French Open 2009. 2010 and 2011 is also a good period of her career as she was ranked No.37 of the WTA ranking of Women's Singles category. She also reached to the Third Round of the Wimbledon 2011.
Doubles Performance
Melinda also played in the Women's Doubles Tennis category, where she has 9 ITF tournaments. But in WTA tour and Grand Slam tournaments, her record in doubles is not as impressive as in Singles. Her best doubles Ranking is No.78.


Profile and Biodata of Hungarian Tennis Player Melinda Czink
Full Name – Melinda Czink


Date of Birth – October 22, 1982


Birth Place – Budapest (Hungary)


Country – Hungary


Playing Style of Melinda Czink – Leftt Handed (Two Handed Backhand)


Highest Singles Ranking of Melinda Czink – No.37 (in 2009)


Highest Doubles Ranking of Melinda Czink – No.78 (in 2010)
Records and Statistics of Hungarian Tennis Player Melinda Czink
Records and Satistics of Melinda Czink in Singles
Career Record – (372-257) 59.14 %


WTA Titles won by Melinda Czink – 1


Highest Career Ranking – No.37


Best Performance in Grand Slam Tournaments -

Second Round of Australian Open in 2004 and 2009


Third Round of French Open in 2009


Third Round of Wimbledon in 2011


Third Round of US Open in 2003
Records and Satistics of Melinda Czink in Doubles
Career Record – (119-130) 47.79 %


Highest Career Ranking in Doubles – No.78


Best Performance in Grand Slam Tournaments -

Second Round of Australian Open in 2010


First Round of French Open in 2006, 2009 and 2010


First Round of Wimbledon in 2006, 2009 and 2010


First Round of US Open in 2006 and 2009