Profile, Career and Records of French Female Tennis Player Tatiana Golovin

This article is about a French female tennis player who born in Moscow (Russia) but moved to Paris in France and got her french citizenship. Here is provided the information regarding this player like her profile, tennis career, and records and statistics.


Tennis Career and Personal Life of French Tennis Player Tatiana Golovin

Tatiana Golovin is a french female tennis player who was not playing professional tennis since 2008. She become professional in 2002 and first time got ticket in WTA Tour main draw match at Indian Wells in 2003.
Year 2004 comes as a success for Tatiana, as she won her first Grand Slam Final in Mixed Doubles category of French Open 2004. She also made her presence in another Grand Slam Tournament in Australian Open as a Wild Card but made to the Fourth Round of the tournament. The same year she went on to make into the Top 100 of WTA Ranking in Singles. She also become the WTA Newcomer of the Year in 2004.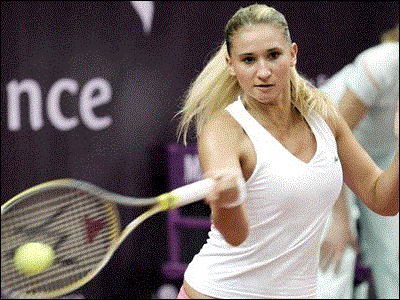 In 2005, she reached to he Finals of the Japan Open. In French Open of the year, she reached to the Third Round of the tournament. She also reached the Third round of the Australian Open of the year. Her Ranking rose to No.18 during the year. In 2006, she gives her best performance of the Grand Slam Tournament in Singles, when she was the Quarter-finalist of The US Open 2006.

2007 is the best year of his career as she won her only two WTA Titles - Banka Koper Slovenia Open and Bausch & Lomb Championship. In 2007 Zurich Open, she reached to the finals of the tournament where she lost to Justin Henin. Her best Ranking came in 2008, when she was World No.12.

Personal Life of Tennis player Tatiana Golovin
Tatiana Govolin was born in Russia in the city Moscow, but she moved to Paris, France and get French Citizenship.


Profile and Biodata of French Tennis Player Tatiana Golovin
Full Name – Tatiana Golovin


Date of Birth – January 25, 1988


Birth Place – Moscow (Russia)


Country – France


Playing Style – Right Handed (Two Handed Backhand)


Highest Singles Ranking – No.12 (in 2008)


Highest Doubles Ranking – No.91 (in 2007)
Records and Statistics of French Tennis Player Tatiana Golovin
Records and Satistics of Tatiana Golovin in Singles
Career Record – (165-93) 63.95 %


WTA Titles – 2

Bausch & Lomb Championship (2007)


Banka Koper Slovenia Open (2007)



Highest Career Ranking – No.14


Best Performance in Grand Slam Tournaments -

Fourth Round of Australian Open in 2004


Third Round of French Open in 2005


Fourth Round of Wimbledon in 2004


Quarter-finalist of US Open in 2006
Records and Satistics of Tatiana Golovin in Doubles
Career Record – (21-32) 39.62 %


Highest Career Ranking in Doubles – No.91


Best Performance in Grand Slam Tournaments -

Winner of French Open in 2004 of Mixed Doubles