Aquatics centre - Swimming events venue for London 2012 Olympics

This article gives you complete information about Aquatics Centre which is the Venue for swimming events for London 2012 Olympics. More details about the Location, events etc of Aquatics centre is quoted in this article.


About Aquatics centre venue for London Olympics 2012

Aquatics centre construction process started in the year 2008 and now it is set and ready to host the swimming events for London 2012 Olympic Games. Aquatics Centre is located in South east corner of Olympic park. All events related to swimming will be conducted in Aquatics centre. This venue was designed by Zaha Hadid who is an International Architect. There will be two wings in the stadium where people can watch the events.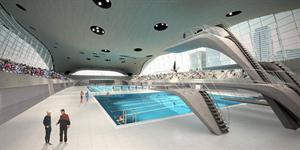 Aquatics centre includes a huge roof with 160m long and 80m wide. Aquatics Centre includes Warm up pool of 50m and also a 50m competition pool and a 25m diving pool. Spectators will watch the events from two wings of the stadium and these wings will be removed after the end of Olympic events. After Olympics Aquatics centre will be opened for schools, clubs and swimmers for practice. More details about the Aquatics centre stadium is given below.


Aquatics Centre stadium details for 2012 London Olympics

Swimming venue for 2012 London Olympics: Aquatics Centre

Location of Aquatics Centre - Swimming venue for 2012 London Olympics: South east corner of Olympic park, London

Events in Aquatics Centre venue for 2012 London Olympics: Diving, Swimming, Synchronized Swimming, Paralympic Swimming and Modern Pentathlon

Aquatics Centre Construction started: 2008

Aquatics Centre Construction ended: July 2011

Number of events in Aquatics centre venue for London Olympics 2012: 192 events

Capacity of the stadium: 17,500 and it will be reduced to 2500 after the Olympic events