Profile, Career and Records of Greek Tennis Player Eleni Daniilidou

This article is about Greek female tennis player Eleni Daniilidou who has once reached the Top 20 of the WTA Ranking in women's singles event. Here is provided the information of Eleni Daniilidou, her profile, her Career and her Grand Slam performance.


Eleni Daniilidou is a Greek female tennis player, who has a very impressive Tennis career. Having won five WTA Singles titles and three Doubles titles, Daniilidou also have a very good record in Grand Slam Tournaments.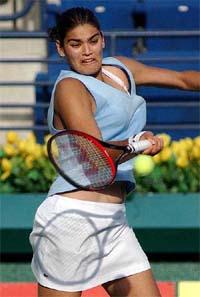 Tennis Career of Greek Tennis Player Eleni Daniilidou

Born in Chania on September 19, 1982, Eleni Daniilidou started her professional tennis career in 1996. Her good performance in 2001 in US Open, got her ranking into the Top 100 for the first time, where she reached to the third round of the tournament. In the same year, she also reached the Second round of the Wimbledon Grand Slam tournament.

Eleni Daniilidou won her first WTA Tour title in 2002 at Ordina Open. She also reached to the fourth round of the Wimbledon in Singles. 2003 was even better for her as she won her Second WTA title at the ASB Classic tournament. She also achieved her best Ranking of No.14 in the same year due to her good performances in three out of four Grand Slam Tournaments of the year.

Eleni Daniilidou in Doubles
Daniilidou has also played in various doubles event of the game. She has won three WTA doubles titles. Her performance in the doubles event of the Grand Slam tournaments is also impressive where she is the Semi-finalist of 2006 French Open. She is also the Quarter-finalist of the Australian Open 2005 and Wimbledon 2006. Her best Doubles Ranking is No.21.


Profile and Biodata of Greek Tennis Player Eleni Daniilidou
Full Name – Eleni Daniilidou


Date of Birth – September 19, 1982


Birth Place – Chania (Greece)


Country – Greece


Playing Style – Right Handed (One Hand Backhand)


Highest Singles Ranking – No.14 (in 2003)


Highest Doubles Ranking – No.21 (in 2007)
Records and Statistics of Greek Tennis Player Eleni Daniilidou
Records and Satistics of Eleni Daniilidou in Singles
Career Record – (397-279) 58.73 %


WTA Titles – 5

Ordina Open (2002)


ASB Classic (2003)


ASB Classic (2004)


Hansol Korea Open (2006)


Moorila Hobart International (2008)



Highest Career Ranking – No.14


Best Performance in Grand Slam Tournaments -

Fourth Round of Australian Open in 2003


Third Round of French Open in 2003


Fourth Round of Wimbledon in 2002


Fourth Round of US Open in 2004
Records and Satistics of Eleni Daniilidou in Doubles
Career Record – (215-211) 50.47 %


WTA Titles – 5

Bank of the West Classic (2004)


Istambul Cup (2010)


Tashkent Open (2011)



Highest Career Ranking – No.21


Best Performance in Grand Slam Tournaments -

Quarter-finalist of Australian Open in 2005


Semi-finalist of French Open in 2006


Quarter-finalist of Wimbledon in 2006


Second Round of US Open in 2004 and 2007