Profile, Cricket Career of Former Indian Cricketer Robin singh

This article is about a former Indian cricketer Robin Singh who is a very useful player. With his allrounnd cricketing ability he has been a very useful player. Here is provided his profile, cricket career and records information.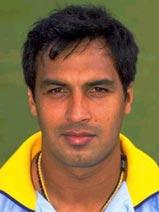 Robin Singh is a former Indian ODI Cricket player, who was known for his allround-cricket. A lower-middle order batsman, he was a very useful player of Indian ODI Team in 90s. His medium fast bowling and skillful fielding was the plus point.


Cricket Career of Robin Singh
Born on 14 September, 1963 in Trinidad, Robin Singh started his First Class Cricket in 1982. He got his break in International Cricket in an ODI Match against West Indies in 1989. He just play one Match there. His next chance come after 7 years in 1996, where he become a regular member of the Indian ODI Team. Robin was a ODI specialist, and has just played only one Test in his International Cricket Career.

Robin singh is currently the Coach of IPL Team Mumbai Indians. He was also the Fielding Coach of Indian Cricket Team in 2007-2008.


Profile of Indian Former Cricketer Jassu Patel
Full Name - Rabindra Ramnarayan Singh
Date of Birth - 14th September, 1963
Birth Place - Trinidad
Batting Style - Left Hand Batsman
Bowling Style - Right Arm Medium-Fast Bowler
Teams - India, Tamil Nadu, Trinidad
Cricket Records and Statistics of Robin Singh
Batting Records of Robin Singh :
Test Matches - 1 Match, 2 Innings, 27 Runs, 13.50 Average
ODI Matches - 136 Matches, 113 Innings, 2336 Runs, 25.95 Average, 74.30 Strike Rate, 1 Hundred, 9 Fifties
First Class Matches - 137 Matches, 180 Innings, 6997 Runs, 46.03 Average, 22 Hundred, 33 Fifties
Least A Matches - 228 Matches, 195 Innings, 4057 Runs, 26.51 Average, 1 Hundred, 56 Fifties
Bowling Records of Robin Singh :
ODI Matches - 136 Matches, 3734 Balls, 2985 Runs, 69 Wickets, 43.26 Average, 54.10 Strike Rate
First Class Matches - 137 Matches, 12201 Balls, 6188 Runs , 172 Wickets, 35.97 Average
Least A Matches - 228 Matches, 7544 Balls, 5851 Runs, 150 Wickets, 39.00 Average, 1 Hundred, 56 Fifties