Biography, profile and career performance of Bangladesh Captain Shakib Al Hasan

Shakib Al Hasan one of the best All rounders in the world. This article gives you complete information about Shakib Al Hasan. Biography and profile of Shakib is included in this article. More details about Career performance of Shakib in all forms of cricket is quoted in this article.


Biography of Shakib Al Hasan

Shakib Al Hasan was born in the year 1987 March 24 at Magura, Bangladesh. Shakib Al Hasan was one of the best and current captain of Bangladesh cricket team. Shakib Al Hasan is one of the best All rounders of the world. He is a slow left arm bowler and a middle order batsman. Shakib Al Hasan started his test career on 18th many 2007 against India and his one day debut was against Zimbabwe in the year 2006 August 6. His T20 debut was against Zimbabwe on 28th November 2006. His IPL playing team is Kolkata Knight Riders. Shakib Al Hasan was appointed as vice captain of Bangladesh cricket team on June 2009 replacing Mashrafe Mortaza. Shakib Al Hasan was awarded Wisden Cricketer's "Test Player of the Year" in November 2009.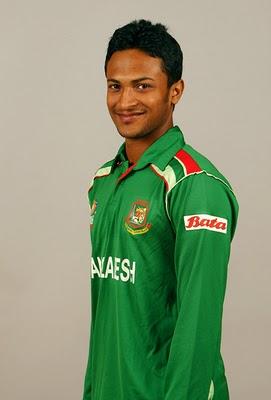 Shakib take his first wicket in ODI cricket of Elton Chigumbura of Zimbabwe. In 2007 world cup Shakib showed an average performance with ball and bat. He score 202 runs from 9 matches and took 7 wickets for his team in the tournament. On 2007 may India played two tests and three one days where, Shakib Al Hasan made his Test debut on 18th may 2007 in this series. In the debut he scored 27 runs without any wicket. In the first match of ICC T20 world cup 2007 against west Indies, Shakib took 4 wickets for 34 runs which helped Bangladesh to win that match.

In 2008 Shakib became one of the best all rounder of Bangladesh cricket team. His best all round performance lead him to top position in ODI all rounders of ICC rankings on January 2009. Shakib was selected as Captain of Bangladesh team in August 2009 for Zimbabwe tour. Shakib scored 104 runs in the second ODI in that series. He took 6 wickets and scored a total of 170 runs in that series. Shakib completed his 3000 runs in ODI cricket in 2011 against Australia.


Profile of Shakib Al Hasan

Full name: Shakib Al Hasan
Shakib Al Hasan birth place: Magura, Bangladesh
Shakib Al Hasan birth date: 24/03/1987
Shakib Al Hasan ODI debut: 06/08/2006
Shakib Al Hasan Test debut: 18/05/2007
Batting style: Left handed batsman
Bowling style: Left arm slow bowler
ODI centuries: 5
Test centuries: 1
Role in cricket: All rounder
Played for: Bangladesh, Khulna Division, Worcestershire and Kolkata Knight Riders
Highest score of Shakib Al Hasan in Test: 100
Highest score of Shakib Al Hasan in ODI: 134 not out


Career performance of Shakib Al Hasan

Test Cricket performance of Shakib Al Hasan

Total matches: 21 matches played
Total runs: 1179 runs scored
Strike rate: 55.53
Average: 31.03
Centuries scored: 1 time
Half centuries scored: 5 times
Total wickets taken: 75 wickets
Best Test bowling performance of Shakib Al Hasan: 7/36

ODI Cricket performance of Shakib Al Hasan

Total matches: 111 matches played
Total runs: 3045 runs scored
Strike rate: 76.55
Average: 33.83
Centuries scored: 5 times
Half centuries scored: 19 times
Total wickets: 138
Best bowling performance of Shakib Al Hasan: 4/33

T20 Cricket performance of Shakib Al Hasan

Total matches: 14 matches played
Total runs: 207 runs scored
Strike rate: 111.89
Average: 14.79
Total wickets taken: 17 wickets
Best ODI bowling performance of Shakib Al Hasan: 4/34

IPL Cricket performance of Shakib Al Hasan

Total matches: 7 matches played
Total runs: 29 runs scored
Strike rate: 131.82
Average: 14.5
Total wickets taken: 11 wickets
Best bowling performance of Shakib Al Hasan: 3/28