Kim Clijster profile, biography and career of Belgian tennis player

Kim Clijster is a Belgian tennis player who was ranked number 3 in WTA Singles Rankings. She is well known for her defence and ground stroke abilities and she was a former World No.1 in singles and doubles. Her recent achievements includes 2009 US Open title and 2011 Australian Open title. Read here to know more about biography and tennis career of famous tennis player Kim Clijster.


Kim Clijsters is a top professional Belgian women tennis player known for her power and court-wide defence who has won four Grand Slam singles titles - US Open in 2005, 2009 and in 2010 and one at the Australian Open in 2011. Kim Clijster tennis career boasts of 41 WTA singles titles and 11 WTA doubles titles. Clijster is ranked No.3 in singles as of August 2011. No doubt that she will always be remembered as the most lovable tennis player and she has won the hearts of million people with her diverse yet unique playing style and she has exceptional defensive skills and well placed groundstrokes with good variety of spins.


Kim Clijster Biography

Kim Clijsters was born into an athletic family on June 8, 1983, in Bilzen, Limburg, Belgium. Her father Lei was a soccer coach and former player and mother Els was a national gymnastics champion and it's no wonder that she is gifted with powerful athletic form as she inherited her leg strength from her father and flexibility from her mother. She has a younger sister Elke who was the ITF Junior Doubles World Champion in 2002. In 2003, she was engaged to Australian tennis player Lleyton Hewitt but they ended up their relationship in 2004. In October 2006, Clijster announced her engagement to American basketball player Brian Lynch and they got married on 2007 at Bree and she has a baby girl, Zeth born in February 2008.


Kim Clijster Personal Profile
Name: Kim Antonie Lode Clijsters

Nicknames: Killing Kim, Kim Kong

Kim Clijster Date of Birth: 8 June 1983

Birthplace of Kim Clijster: Bilzen, Belgium

Residence of Kim Clijster: Bree, Belgium

Height: 1.74 m

Weight: 68 kg

Plays: Right-handed

Kim Clijster Father name: Lei Clijsters

Mother name of Kim Clijster: Els Vandecaetsbeek

Sister of Kim Clijster: Elke Clijsters

Husband of Kim Clijster: Brian Lynch

Kim Clijster Kids: Zeth

Languages known: Dutch, French and English

Favorite Movies of Clijster: Gladiator, Hurricane

Favorite Player of Clijster: Steffi Graf
Tennis Career of Kim Clijster

Kim Clijster have great interests on tennis and learn to play it at the tender age of five. She began competing in tournaments when she was six. With the help of her coach Bart Van Kerckhoven, she won the Belgian Junior Championship in 1994, when she was then at the age of 11. In 1996 when she was at her 13, she attended the Wilrijk tennis school, where she met coach Carl Maes who accompanied and coached her till June 2002. In 1997 while she was still a student, she competed in junior grand slams and in 1998, she becomes the youngest national champion ever in the history of tennis, and at the same year she finished as runner-up at Wimbledon junior event where she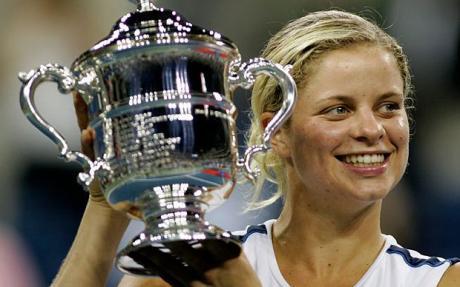 was placed 11th in singles ranking. In the same year, she won the French and U.S. Open doubles titles defeating Jelena Dokic and Eva Dyrberg. She was ranked number four in the International Tennis Federation (ITF) junior doubles world ranking.

Her professional debut started in 1999 and her first Women's Tennis Association tour(WTA tour) was in Antwerp where she lost the quarterfinals match. In the same year, she was lost to her childhood idol Steffi Graf, at the fourth round at Wimbledon and reached the third round at the US Open losing to Serena Williams. She won her first WTA singles title at Luxembourg defeating Dominique Van Roost and Kim Clijster first WTA doubles title was at Bratislava defeating Laurence Courtois. Kim Clijsters biography reveals that she was the only Belgian player to won the trophy 'WTA Most Impressive Newcomer' award. Clijster reached her first Grand Slam finals at French Open in 2001, where she was lost to Jennifer Capriati in the third set, but however she won the year end 'Home Depot Championship' in Los Angeles defeating Serina Williams in the finals.

Clijster tennis career was on rise and she won nine singles tournaments and seven doubles titles in the year 2003 and Clijster was the first player who earned World No.1 ranking without winning a Grand Slam singles title. Clijster won her first ever grand slam title at U.S.Open in 2005 defeating Mary Pierce. In 2007 Clijster retired from tennis to get into married life with American Basketball player Brain Lynch. She made a comeback in 2009 and won her second US Open title. In 2010 she played a number of exhibition tournaments as well and her performance during that season earned her WTA Player of the year award for the second time. Kim Clijster won her first Australian Open 2011 title against the Chinese player Li Na 3-6,6-3,6-3 which was her first major win outside US.

Are you Kim Clijster fan? Then you can join and give a like and follow to know more updates from Kim Clijster Facebook profile -