Profile, Biography and career history of Viswanathan Anand - No 1 Chess player in the world

This article gives you all information about Viswanathan Anand, who is the world famous and No 1 Indian Chess player in the world. Check out this article as you can find the Biography and career history of Viswanathan Anand. Awards won and complete profile of Viswanathan Anand is also quoted in this article.


Biography and Career history of Viswanathan Anand

Viswanathan Anand, the world famous chess player from India was born in the year 1969 December 11 in Chennai. Anand's father Viswanathan Iyer is retired from railways and his mother Susheela who taught anand to play the game of Chess. Anand has completed his schooling from Don Bosco School Chennai and he had taken graduation from Loyola College, Chennai. Anand was marreied to Aruna Anand and a son named Akhil.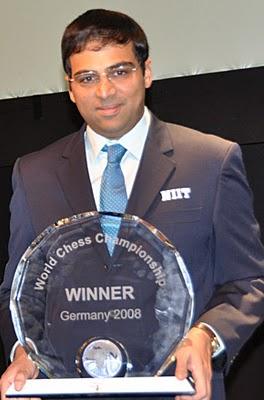 Anand is the current World Chess champion and No 2 rank in World chess ratings. Anand is placed in Fide rank list among six players in the world chess history with 2800 mark. He had become world No 1 position chess at the age of 37. Anand was the first Indian Grand master where he accomplished this in the year 1987. In the earlier age itself Anand showed some amazing talent in Chess.

In 1983 Anand became Sub junior national chess champion where his age is only 14. In the age of 16 Anand also showed some brilliance in chess where he had got a world record for Youngest Indian to take International Master title in the year 1984. Another record for World Junior Chess Championship was made in the year 1985. In 1998 Anand became India's first chess player to attain a Chess Grandmaster award.

His extraordinary skills continued in the year 1990 where he had won many titles. He showed some excellent skills in Rapid chess and Blindfold chess. Anand was a member in Board of Directors in Olympic Gold Quest. Anand has also won many important awards like Arjuna award, padmashri, Rajiv Gandhi Khel Ratna award, Soviet Land Nehru award and best sportsman award in 1995.


Profile of Viswanathan Anand

Full name: Viswanathan Anand
Nick Name: Vishy
Father's name:Viswanathan Iyer
Mother's name:Susheela
Playing for: India
Date of Birth: 11-12-1969
Place of Birth: Mayiladuthurai, Tamil Nadu, India
Grand master Title: 1985
FIDE rating: 2817
Highest rating: 2817 in May 2011


World Championship Titles Won by Viswanathan Anand

Main titles won by Anand

1)FIDE World Chess Champion 2000
2)FIDE World Rapid Chess Champion 2003
3)World Chess Champion 2007
4)World Chess Champion 2008
5)World Chess Champion 2010
6)World Chess Championship 2012

Other Titles won by Anand

*Arab Asian International Chess Championship in 1986(first place)
*Sakthi Finance Grandmasters Chess Tournament in 1987(first place)
*51st Hoogovens Chess Tournament, Wijk aan Zee in 1988(first place)
*2nd Asian Active Chess Championship, Hong Kong in 1989(first place)
*Asian Zonal Championship in 1990(Gold Medal)
*Manchester Chess Festival, Manchester in 1990(first place)
*Triveni Super Grandmasters Tournament, Delhi Joint in 1990(first place)
*Reggio Emilia Chess Tournament, Reggio Emilia 1992(first place)
*Goodrich Open International Tournament, Calcutta 1992(first place)
*PCA Interzonal, Groningen in 1993(first place)
*Melody Amber Tournament, Monaco in 1994(first place)
*PCA Grand Prix, Moscow in 1994(first place)
*Credit Swiss Rapid Chess Grand Prix, Geneva in 1996(first place)
*Torneo de Ajedrex, Dos Hermanes in 1997(first place)
*Melody Amber Tournament, Monaco in 1997(first place)
*Invesbanka Chess tournament, Belgrade 1in 1997(first place)
*Credit Suisse Classic Tournament, Biel in 1997(first place)
*FIDE World Chess Championship in 1998(runner up)
*60th Hoogoven's Schaak Tornoi, Wijk aan Zee in 1998(first place)
*Torneo International De Ajedrez, Linares in 1998(first place)
*Torneo Magitral Communidad De Madrid, Madrid in 1998(first place)
*Siemens Nixdorf Duell (Rapid), Frankfurt in 1998(first place)
*Fontys-Tilburg International Chess Tournament in 1999(first place)
*Wydra Memorial Chess (Rapid), Haifa in 1999(first place)
*Fujitsu Siemens Giants Chess (Rapid), Frankfurt in 2000(first place)
*Corsica Masters (Rapid), Corsica 1in 2000(first place)
*65th Corus Chess Tournament, Wijk aan Zee in 2003(first place)
*Linares Chess Tournament, Linares in 2007(first place)
*FIDE World Championship Tournament, Mexico City in 2007(first place)
*Linares Chess Tournament, Linares in 2007(first place)


Awards won by Viswanathan Anand

1)Arjuna award in 1985
2)Padma Shri in 1987
3)The inaugural Rajiv Gandhi Khel Ratna Award in the year 1991–1992.
4)British Chess Federation 'Book of the Year' Award in 1998 for his book My Best Games of Chess
5)Padma Bhushan in 2000
6)Chess Oscar in 1997, 1998, 2003, 2004, 2007, and 2008
7)Sportstar Millennium Award in 1998
8)Padma Vibhushan in 2007
9)'Global Strategist Award' in 2011