Profile, Biography and career records of Sachin Tendulkar:God of Cricket

This article gives you all information about Sachin Ramesh Tendulkar, best cricket player in the world. Check out this article as you can find Biography and profile of Sachin Tendulkar. This article also gives you details about Career records and awards won by Sachin Tendulkar in World Cricket.


Biography of Sachin Tendulkar

Sachin Tendulkar is the best cricket Batsman in the world. Sachin is a great role model for many small cricket players in the world. The full name of Sachin is Sachin Ramesh Tendulkar who was born in the year 1973 April 24 in Mumbai. Sachin started his cricket career from Shradashram Vidyamandir high school in Mumbai. His first coach in cricket was Ramakant Achrekar. In the beginning itself Sachin was a hard working sports man. He used to practice for hours in net. As a young boy he showed some amazing skill in his batting.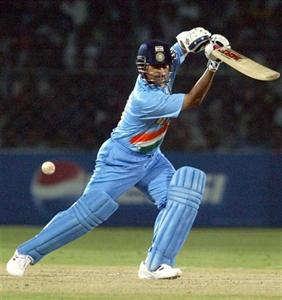 During his first training in MRF pace foundation Sachin is trained as a fast bowler but it is not so impressed and Australian fast bowler Dennis Lillee noticed his performance and suggested him to concentrate on his batting. In 1988 Sachin and Vinod kambli, his friend together scored a record school partnership of 664 runs. Sachin scored his first century in first class cricket at the age of 16 in 1988 for Bombay against Gujarat. During that period Sachin was the highest run scorer for Mumbai.

Sachin was the first person to score a debut century in Irani Trophy, Ranji Trophy and Duleep Trophy. At the age of 16 Sachin Tendulkar was selected for International cricket where he got a chance to play in the Pakistan tour. Sachin played his first test against Pakistan in Karachi in 1989, but he scored only 15 runs in that innings. His extra ordinary skills in batting showed in 1990 against England where he scored a century in England test at Old Trafford.

He played some great shots in that match. Again in 1992 Sachin scored another century of 148 against Australia in Sydney. In 1992 Sachin also played for English county club Yorkshire where he scored a total of 1070 runs. Sachin played an important role for India to reach the final of 2003 ICC world cup. He had made some great knocks in 2003 World cup. He scored 673 runs in that world cup where he was awarded the Man Of the Series trophy. After that world cup Sachin had suffered with tennis elbow and for a long time he was not in Indian cricket but in 2005, Sachin again showed his excellence against Australia, SriLanka and Pakistan teams. Sachin had won 62 Man Of The Match and 16 Man of The Series award in ODI Cricket. Sachin was married to Anjali and have two sons(Sara and Arjun).


Profile of Sachin Tendulkar

Full name:Sachin Ramesh Tendulkar
Date of Birth:24-04-1973
Birth place:Mumbai, India
IPL Team:Mumbai Indians
Batting Style:Right Handed batsman
Bowling Style:Off break and leg break bowler
Nickname:Little Master,Master blaster
Teams played:India, Mumbai Indians, Yorkshire
Marital status:Married to Anjali Tendulkar
Children:Sara and Arjun


Career history of Sachin Tendulkar

ODI Cricket

Matches played:453
Total innings:442
Total runs:18111
Strike rate:45.16
Average:45.16
Top score:200 not out
Hundreds scored:48 times
Fifties scored:95 times
Fours:95
sixes:193
Total wickets taken:154
Best bowling performance:5/32

Test Cricket

Total matches players:177
Total innings:290
Total Runs:14692
Strike rate:53.97
Average:56.95
Top score:248
Hundreds scored:51 times
Fifties scored:59 times
Total wickets taken:45
Best bowling performance:3/32

Indian Premier League(IPL)

Total matches players:51
Total innings:51
Total Runs:1723
Strike rate:120.24
Average:40.07
Top score:100
Hundreds scored:1 time
Fifties scored:10 times


Debut of Sachin Tendulkar

Test Debut:15-11-1989 against Pakistan at National stadium, Karachi

ODI Debut:18-12-1989 against Pakistan at Jinnah Stadium, Gujranwala

T20 Debut:1-12-2006 against South Africa at The Wanderers Stadium, Johannesburg

IPL Debut:14-05-2008 against Chennai Super Kings at Wankhede Stadium, Mumbai


Awards won by Sachin Tendulkar

Padma Vibhushan
Padma Shri
Rajiv Gandhi Khel Ratna
Arjuna Award.


World records in the name of Sachin Tendulkar

1)Highest run scorer in Test and One day cricket.
2)Most Hundreds in Tests:51
3)Most Hundreds in ODI:48
4)Top scorer in ODI:200 not out
5)First cricketer to reach 10,000 runs in ODI cricket.
6)Most Man of the matches and Man Of The series Awards.
7)Highest run scorer in a world cup(1796 runs)
8)Most Man of the matches in world cup
9)Most centuries in a calendar year(1998):9 centuries
10)First cricketer to score Debut century in Ranji Trophy, Duleep Trophy and Irani Trophy.