Assassin's Creed Brotherhood:best third person videogame of 2011 released in PC, Xbox 360 and PS3

This article gives you details about latest and best third person video game Assassin's Creed Brotherhood. this article includes summary of the game and system requirements for PC. This article also include characters and weapons used in Assassin's Creed Brotherhood.


Summary of Assassin's Creed: Brotherhood


Assassin's Creed Brotherhood is the latest game in the assassin's creed series developed by ubisoft. Assassin's Creed brotherhood is a third person action adventure game where player takes the character named 'ezio auditore de firenze' and 'Desmond miles'.The game is released in 18 march 2011 and is available for pc,ps3 and xbox 360.The game looks awesome with its newly adopted graphics.The story of this game takes place in italy and the player can move around an open world in italy.

The story of Assassin's creed:brotherhood reveals the Desmond miles attempt to find out the late memories of his ancestor, Ezio Auditore. Different weapons are available in this game to attack your enemies. Assassin's Creed Brotherhood presents multiplayer game mode where players can compete with each other through online.In the game players can buy equipments from the store and can become notorious assassin.

The style and look of character in Assassin's creed:Brotherhood is mind blowing which makes this game special from other action games. Horses are always interesting and special in all versions of Assassins Creed. In Brotherhood version you can use horse not only for riding purpose but also you can fight with enemies while riding in horse which is not there in other versions of Assassins Creed.

Another specialty of Assassins Creed:Brotherhood is that you can use Ezio to through weapons like axes, spears, and swords and kill the enemies from long range.Assassinscreed:Brotherhood is the highest sold videogame release from Ubisoft. 8 million copies are already shipped and sold.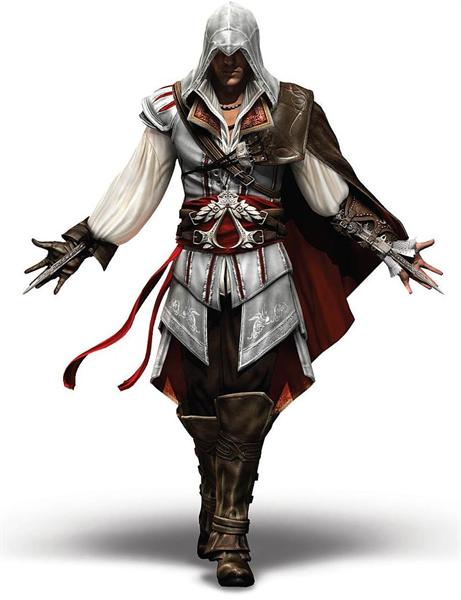 Characters in Assassin's Creed:Brotherhood

*Courtesan
*Barber
*Priest
*Noble
*Prowler
*Executioner
*Doctor
*Blacksmith
*Captain
*Smuggler
*Engineer
*Footpad
*Thief
*Hellequin
*Mercenary


Weapons in Assassin's Creed:Brotherhood

You can use any of the weapons to kill the enemies
*Longswords
*Crossbow
*Dual Hidden Blades
*Poison Darts
*Hidden Gun
*Daggers
*Spears, Halberds and Pikes
*Throwing Knives
*Warhammers and Maces
*Heavy Weapons
*Apple of Eden


Rating of Assassin's Creed:Brotherhood by top websites

Eurogamer: 10/10
Game Informer: 9.25/10
GamePro: 5/5
GameSpot: 8.5/10
GameTrailers: 9/10
IGN: 8/10


System requirements for Assassins Creed:Brotherhood in PC

Minimum System requirements
Operating system
Windows XP (32 and 64 bits)
Windows Vista (32 and 64 bits)
Windows 7 (32 and 64 bits)

Processor
Intel Core 2 Duo 1.8 GHZ
AMD Athlon X2 64 2.4GHZ

Memory
1.5 GB Windows XP
2 GB Windows Vista and Windows 7

Supported graphics cards
ATI RADEON HD 2000/3000/4000/5000/6000 series
NVIDIA GeForce 8/9/100/200/300/400/500 series
Graphics: 256 MB DirectX 9.0–compliant card with Shader Model 3.0 or higher (see supported list*)
DirectX: 9.0
Hard drive: 8 GB
Sound: DirectX 9.0 compliant sound card
Controllers:Keyboard or joystick can be used

Recommended system requirements
Operating system
Windows XP (32 and 64 bits)
Windows Vista (32 and 64 bits)
Windows 7 (32 and 64 bits)

Processor
Intel Core 2 Duo E6700 2.6 GHz
AMD Athlon 64 X2 6000+ or better

Memory
1.5 GB Windows XP
2 GB Windows Vista and Windows 7

Supported graphics cards
GeForce 8800 GT
ATI Radeon HD 4700 or better

Graphics: 256 MB DirectX 9.0–compliant card with Shader Model 3.0 or higher
DirectX: 9.0
Hard drive: 8 GB
Sound: DirectX 9.0 compliant sound card
Controllers:Keyboard or Xbox 360 Controller for pc recommended


Online shops for buying Assassin's creed:Brotherhood

http://assassinscreed.uk.ubi.com/brotherhood/stasis/shop-intl.html

http://www.amazon.com/Assassins-Creed-Brotherhood-Playstation-3/dp/B003L8DXOI

http://www.play.com/Games/Xbox360/4-/13461455/Assassin-Creed-Brotherhood/Product.html