Final squad, preview, pitch condition and interesting facts of India England test match 2011, Lords

First cricket test match of India England series 2011 will be played at Lords from 21st July 2011. Here are the pitch report, final 11 of both teams and main spotlight of the historic test match which is 2000th test match overall and 100th test match between India and England.


India England test series has always been interesting especially at the Lords which has been favourable for the host. This is the 29th series between India and England and will be an historic series due to the facts mentioned below

1. The 1st test match played at Lords will be 2000th cricket test match in history.
2. This test match will be 100th test match between India and England.
3. Sachin Tendulkar had scored 99 century in International cricket and could make a century of centuries here.


Preview of India England cricket test match 2011, Lords

Till date there has been 28 series between India and England consisting of 99 test matches, 71 ODIs and 2 twenty twenty, but none of the match was highly anticipated and memorable with an exception of an ODI which India won by splendid batting of Yuvraj Singh and Md Kaif. This match being the 100th match between the two team and 2000th test match overall will be a milestone in cricket history.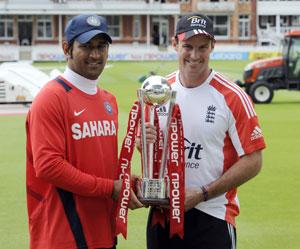 Indian cricket team strength and weakness for Lords test

Strength of Indian team is the presence of Sachin Tendulkar, Gautam Gambhir and Yuvraj Singh which will strengthen the batting line up. MS Dhoni 100% record of winning test series will be a motivating factor. In bowling department Ishant Sharma is in form and presence of Zaheer Khan will be a boost.

Weakness is inexperience of Abhinav Mukund who will be playing his second series only. Gautam GAmbhir will be playing first time in England. So far in practice matches bowling department failed completely.


Strength and weakness of England cricket team for Lords test

Main strength of England test team is the in form batting opening pair Andrew Strauss and Aliaster Cook. England at present seems to be pretty confident. Graeme Schwann is number one bowler for test cricket at present.

Weakness is the vulnerability of England team and a bit pressure can expose the batting line up. Kevin Peterson is out of form. Bresnann is though a lethal bowler but havent yet bowled to experience batsmen like Sachin Tendulkar, Rahul Dravid and Laxman.


Final 11 of India and England squad for Lords test match 2011

England already announced their final 12 players who will play in historic Lords test. The team will be
1 Alastair Cook, 2 Andrew Strauss (capt), 3 Jonathan Trott, 4 Kevin Pietersen, 5 Ian Bell, 6 Eoin Morgan, 7 Matt Prior (wk), 8 Graeme Swann, 9 Stuart Broad/Tim Bresnan, 10 James Anderson, 11 Chris Tremlett.

India though havent announced their final 11 men but the probability is that the team will be
1 Abhinav Mukund/Yuvraj Singh, 2 Gautam Gambhir, 3 Rahul Dravid, 4 Sachin Tendulkar, 5 VVS Laxman, 6 Suresh Raina, 7 MS Dhoni (capt & wk), 8 Harbhajan Singh, 9 Zaheer Khan, 10 Ishant Sharma, 11 Praveen Kumar/Munaf Patel/Sreesanth

Raina will be preferred to Yuvraj Singh seeing his batting in West Indies series.


Pitch condition and report of Lords for test match between India and England 2011

The pitch will not be a bouncy track, so for India batting will not be so difficult, but there will be signs of wear and tear as the game proceeds and may help spinners in final day. Very dim chance of rain is there, but overall climate condition will be ideal for a cricket match.

Result of last five test match of India - Draw, Draw, Win, Draw, Win
Result of last five test match of England - Draw, Draw, Win, Win, Win

Photo courtsey : NDTV sports