Biography of Homare Sawa, Japanese footballer & Womens Football World Cup 2011 Golden Boot Winner

Homare Sawa, the captain of Japan in Women's Football World Cup 2011, was the highest goal scorer of Women Football World Cup 2011 and secured the Golden Boots. In this Homare Sawa wiki article, you can read more about her including Homare Sawa biography, profile, career statistics of Homare Sawa and more.


With the able captaincy of Homare Sawa, the captain of the Japan women's football team, the girls accomplished it what has so far been only a dream for the boys, as Japan became the champion in the Women's Football World Cup 2011 as the first Asian country. In the Women's Football World Cup 2011 in the Commerzbank Arena in Frankfurt, Germany, with just four minutes to play in the extra time, Homare Sawa suddenly scored from the corner kick to equalize the result (2-2), thus allowing the match to be extended to penalty shoot out as Japan bagged the match with 3-1 in the tie breaker. No wonder, Homare Sawa will now emerge not only as the national hero of Japan, but as a new football legend in the entire women's football as a whole. Especially in countries like India where the level of football is still quite poor, let apart women's football that undergoes social marginalization even nowadays, this will be a revitaliser. Here we have given a complete Homare Sawa biography along with her profile and career statistics. Keep reading!


Biography of Homare Sawa, top scorer in Women's Football World Cup 2011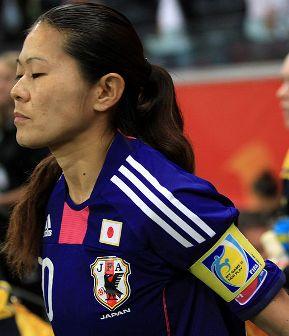 Often regarded as the best female footballer of Japan so far in the history of women's soccer in that country, Homare Sawa stepped into the highest level domestic league football in Japan as early as at an age of 12 years. Three years later, she made her international début only at the age of 15, in 1993, scoring as many as four goals. Homare Sawa hat trick against Philippines, in that very first match of her international career, drew attention of everyone. Soon she became a regular member of Japan national team of women footballers. Homare Sawa has also particapted in the last 5 FIFA Women's World Cups, as well as in Summer Olympic Games, 1996, 2004 and 2008.

In her long international career with the Japanese National Team, there are a number of Homare Sawa records and career achievements under her credits. She has the record of 171 Japan caps, as well as a Japanese female-best 82 international goals. She also scored a hat trick against Mexico in the 2011 FIFA Women's World Cup group stage match. Homare Sawa also played in Washington Freedom, NTV Beleza, Atlanta Beat, Denver Diamonds, and Yomiuri Beleza.


Homare Sawa short profile & career statistics
Date of birth of Homare Sawa: 6th September 1978

Age of Homare Sawa: 32 years

Homare Sawa birth place: Fuchu

Homare Sawa present address: Tokyo, Japan

Homare Sawa playing position: Midfielder.

Homare Sawa height: 1.64 m

Homare Sawa current club: INAC Kobe Leonessa, in the Nadeshiko League Premier Division.

Homare Sawa jersey number: 10

Homare Sawa first international debut match: On 6th December, 1993, at the age of 15 only.

Homare Sawa international goals: 82

Homare Sawa official Facebook page ID:

Homare Sawa official twitter page:

Image credit: Wikipedia Commons at en.wikipedia.org/wiki/File:Homare_Sawa_in_2011.JPG