Profile and Biography of Ana Ivanovic, the Serbian Tennis Beauty

Ana Ivanovic, highestly ranked as World number thirty one player is famous for her both-sided strokes. Ana Ivanovic is also famous for her modelling as other tennis queens Maria Sharapova and Anna Kournikova. To know more about Ana Ivanovic Tennis career, biography and profile, check this Ana Ivanovic wiki article.


Ana Ivanovic who was born on the 6th of November, 1987, is a former number 1 and a Serbian tennis player. As of the 4th of July, 2011, Ana Ivanovic current ranking is World Number 17 on the WTA rankings. She beat Dinara Safina to win the 2008 French Open and was the runner up at the singles of 2007 French Open and 2008 Australian Open.


Profile and Biography of Ana Ivanovic
Name: Ana Ivanovic

Ana Ivanovic Date of Birth: 6th November, 1987 (age 23)

Ana Ivanovic Birthplace: Belgrade, SR Serbia, Yugoslavia

Ana Ivanovic Residence: Basel, Switzerland

Height: 6 feet 1 inches

Hair Colour: Light brown

Eye Colour: Brown

Father's Name: Miroslav

Mother's Name: Dragana

Siblings: Milos (brother)

Ana Ivanovic Boyfriend: Fernando Verdasco, Adam Scott are the two names that have come up.

Ana Ivanovic Racquet: Yonex EZONE 100 model

Ana Ivanovic Interests: education, child protection and other social issues.

Plays: Right- handed (two-handed both sides)

Ana Ivanovic Favourite surface: Hard
Ana Ivanovic Career Statistics
Early Career of Ana Ivanovic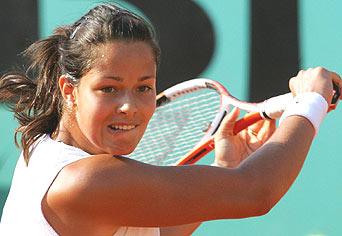 Ana was introduced to tennis at a very young age of five years. Her parents supported her whole heartedly in the playing of Tennis. Her mother supports her daughter during most of her matches and her father attends as many events possible. Ana Ivanovic inspiration to begin playing Tennis was Monika Seles, who played for Yugoslavia at that time.

She picked up her racquet the first time after watching Monica Seles, a fellow Yugoslav on television. At that time she was forced to train during the morning to avoid bombardments. When she was 15, she spent four hours crying after losing a match. She thought that her new manager would drop her pretty soon. But still now Dan Holzmann had stayed Ana Ivanovic manager.

Ana reached the final round of the Junior Wimbledon tournament in 2004. In the ITF circuit that year she won all the five events she participated in, two of them as a qualifier. She debuted her first Grand Slam in the US Open of 2004.

In 2005 Ivanovic won her first career singles title, as a qualifier, at Canberra, in Australia. Her ranking climbed steps with her win over some of the top 10 players. She defeated Amelie Mauresmo at the third round of the French Open and that was till then the biggest win of her career.

Ana started the year 2006 with playing the Hopman Cup with Novak Djokovic, where they narrowly missed the finals. She again made it to the third round of the French open and progressed to the fourth round of the Wimbledon before being defeated.

Ana made her first breakthrough when she beat the former Number 1 Martina Hingis in the finals of the Rogers Cup in Montreal. This win led her to winning the United States Open series and at the US Open she lost to Serena Williams.


Accomplished Career of Ana Ivanovic

At the Australian Open at Melbourne in 2007, Ana was seeded 13th. She reached the third round where she got defeated. It was just after this tournament that Ana Ivanovic coach, David Taylor and she splited up.

Ana then had a six-match winning streak making it to the top French Open and increased it to another six by reaching to the finals. She won the first three matches and even defeated the world No. 3. A knee injury after that stopped her from competeting in the next few events. At the US Open she lost only 10 matches when Venus Williams eliminated her. Then her ranking was increased to World No. 4.

At the Australian Open 2008, she defeated Venus Williams for the first time. Her ranking then rose to Number 2. At the Wimbledon, Ana lost in the third round to world Number 133. She then started her hard court sessions at the Rogers Cup.

At the 2009, French Open, Ana won her first three sets being defeated in the next. At the Wimbledon, she was seeded 13th reaching the third round where she lost to the eventual finalist Venus Williams. At the US Open, Ana lost in the first round of a grand Slam for the first time in her Career.

At the 2010 Australian Open Ana was seeded 20th. She then announced she will be working with the former Coach of Steffi Graf, Heinz Gunthardt. At the US Open, she reached the fourth round before being defeated by the eventual champion Kim Clijsters.

Ana qualified for the last tournament of that year 2010 Commonwealth Bank Tournament of Champions. She won her life's tenth career title. She then finished her year 2011 with the world ranking of World Number 17 as recorded of the 4th of July, 2011.


Ana Ivanovic Facebook Fan page and Twitter profile

http://www.facebook.com/anaivanovic
http://twitter.com/#!/Ana_Ivanovic