Profile and Biography of Rafael Nadal Parera

Rafael Nadal is a Spanish professional tennis player and a former World No. 1. As of 4 July 2011 (2011 -07-04).Currently ranking as the worlds Number 2.He is is a magnificent tennis player.You want to know more about Rafael Nadal Parera Tennis career, biography and profile then read the full article.


Early life of Rafael Nadal

Rafael Nadal was born on June 3, 1986 on the island of Mallorca (Spain). His father Sebastián Nadal is a businessman and mother Ana María Parera is a house wife. At 8 years old ,Rafael Nadal won an under-12 regional tennis championship at that time he was also very good football player. At 12 years old Nadal's father tell to Rafael Nadal choose between football and tennis. At that time Rafael Nadal choose tennis.Rafa Nadal is a simple person, humble and very mature.

Rafael Nadal won his first tournament at age eight, in the Balearics. Precocity has broken records in the circuit one after another. Removing Michael Chang, the player who entered before the 17-years-in the select list of top 100 players in the world that produces ATP. Also after Michael Chang is the second youngest player to win a Masters Series. And, with 17, reached the third round of Wimbledon. Only he had done before Boris Becker. It is also the youngest player to climb to fifth in the list of entries since I managed to Michael Chang in 1989.

Rafael Nadal is the youngest winner of the Davis Cup 18 years and 187 days beating Australia's Pat Cash, 18 years and 215 days. Nadal was already the youngest Spanish player to debut in a Davis Cup tie, when he played his first match in Brno, February 6, 2004, to Jiri Novak, 17 years, eight months and three days.

In 2004 he won his first ATP tournament by defeating in the final of the Argentine Acasuso Sopot. He was also a finalist in Auckland, while he won the doubles title in Chennai, with Robredo. He was also the main protagonist along with Carlos Moya in the pursuit of Davis Cup final in Seville to the United States.

His tennis is based on evidence , not to give any points for lost and fear no rival. His confidence is such that most heard phrase is "My model is me. I've always been the first in various categories and try to follow my own trail. "

At the end of 2004, the ATP launched a vote to designate the Newcomer of the season, 'Best Breakthrough Performance'. Rafa Nadal was the winner with 51% of the vote.


Records of Tennis star Rafael Nadal

*He snuck in the Wimbledon final to Roger Federer and tute. Decades ago that a Spanish player could not.

*It is the first player since Thomas Muster (1995) to win consecutively in Monte Carlo, Barcelona and Rome and reaching the final of Roland Garros (Muster took the title).

*After winning in Monte Carlo became the second youngest player to lift a Masters Series.

*In 2003, 17 years, Rafael Nadal climbed into third round at Wimbledon, equaling Boris Becker in 1984.

*In the Davis Cup final in Seville made history as the youngest player to win the Davis.

*Rafael Nadal is the youngest champion in Monte Carlo since Mats Wilander in 1983.

*In 2002, barely 15 years, Rafael won his first win against Ramon Delgado ATP Open de Mallorca, after receiving a wild card of the organization. Only nine players have won a game at the professional calendar before age 16.

*After winning the Godo Rafael Nadal became the youngest to get into the "top ten" since Andrei Medvedev (1983).

*Rafa Nadal is the youngest Spanish top ten in the world.

*By winning in Sopot (2004), Rafael-Nadal managed to be the earliest to raise an ATP title since Lleyton Hewitt won in Delray Beach 1999.

*The youngest Spanish debut in the Spanish Davis Cup team. It was in the tie against the Czech Republic Brno.

*One of the fifteen players who have scored five ATP crowns before the age of 20 years. Ten of the fifteen players ended up being number one.

*The first 'teenager' to achieve five titles in a season since he did Agassi in 1988.


Profile and Biodata of Rafael Nadal Parera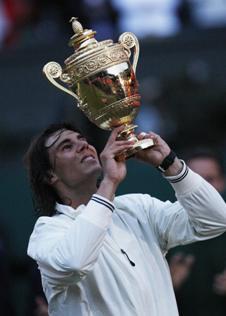 Name: Rafael Nadal Parera
Date of Birth:3 June 1986
Birthplace:Manacor, Mallorca(Spain)
Residence: Spain
Height:1.85 m (6 ft 1 in)
Father's Name:Sebastián Nadal
Mother's Name:Ana María Parera
Sister's Name:María Isabel
Plays: Left-handed (two-handed backhand)
Career prize money $42,646,332


Singles

Career record: 523(Win)–109(Def.) (82.75%)
Career titles: 46
Highest ranking No. 1: (18 August 2008)
Current ranking No. 2 :(4 July 2011)[1]


Grand Slam results

Australian Open Win (2009)
French Open Win (2005, 2006, 2007, 2008, 2010, 2011)
Wimbledon Win (2008, 2010)
US Open Win (2010)
Other tournaments
Tour Finals F (2010)
Olympic Games Gold medal (2008)


Doubles

Career record: 89(win)–54(Def.)
Career titles: 7
Highest ranking No.: 26 (8 August 2005)


Grand Slam Doubles results

Australian Open 3Round (2004, 2005)
Wimbledon 2Round (2005)
US Open SF (2004)


Olympic medal record Competitor for Spain Men's Tennis

Gold 2008 Beijing Singles

Reference: www.rafaelnadal.com