Profile, biography and career history of England cricket player Graeme Swann

Check out this article as you will get profile details and performance chart of Graeme Swann best off spinner in England squad. Currently he is the No 1 bowler in one day cricket. This article also gives you information about Bowling and Batting performance of Graeme Swann through out his career.


Graeme Swann:No 1 bowler in one day cricket

32 year old Graeme Swann after the Srilanka series became the No 1 bowler in one day International cricket. One of the best off spinner in the world. His best bowling figures 8 for 164 against Srilanka helped England to take the series win of 3-2 in last month. This is the first time Swann is becoming rank 1 in ICC ODI Cricket ranking.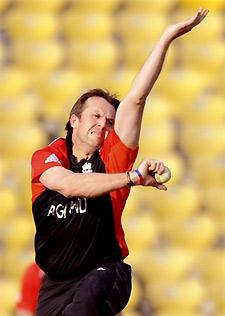 Graeme Swann Journey to cricket

Graeme Swann's father and brother are also cricketers but they did not get a place in national squad of England cricket. As a off spinner Graeme Swann started his one day career in the year 2000 against West Indies. At the beginning it was not a good performance from Graeme Swann and dropped from England squad.

But later in 2007 Against Srilanka, he had shown his brilliance in spinning and taking wickets and now he is the No 1 bowler in world one day cricket. His test debut started in the year 2008 November against India. He showed his excellence in test cricket by taking two wickets in one over of his first match. This has happened only two times in test cricket. In 2009 against West Indies, Swann had taken 26 wickets in five matches and a half century which also proves that he is a good batsman.


Biodata of Graeme Swann

Full name : Graeme Peter Swann
Playing for : England
Birth place : Northampton
Birth date : 24-03-1979
Batting Style : Right Handed
Bowling Style : Off break bowler
Nick name : Chin
Current age : 32 years old
Height : 6 ft


Batting performance and records of of Graeme Schwann, cricket player of England

Test Cricket records of Graeme Schwann
Total matches:32 matches played

Total runs:745 runs scored

Strike rate:82.41

Average:24.03

One day cricket record of Graeme Schwann
Total matches:56 matches played

Total runs:390 runs scored

Strike rate:85.9

Average:13.45

Twenty Twenty record of Graeme Schwann
Total matches:23 matches played
Total runs:48 runs scored
Strike rate:117.07
Average:16


Bowling Performance and record of Graeme Schwann

Tests
Total matches:32 matches played
Total overs:134 overs bowled
Total wickets:140 wickets taken
Best figures:6 for 65
Economy:2.89

One day cricket
Total matches:56 matches played
Total overs:440 overs bowled
Total wickets:80 wickets taken
Best figures:5 for 28
Economy:4.43

Twenty Twenty
Total matches:23 matches played
Total overs:79 overs bowled
Total wickets:32 wickets taken
Best figures:3 for 14
Economy:6.58