Biography and profile of Yanina Wickmayer, Belgian tennis player

Yanina Wickmayer, ranking 12th at present, is a talented Belgian tennis star known for the versatility in game and the rare yet classic two handed backhand shot. Read more about Yanina Wickmayer's tennis career and profile in this Yanina Wikmayer wiki article.


Yanina Wickmayer was born in Lier, Belgium on the 20th of October, 1989. She is a Belgian professional player and is ranked as the World No. 19. She is also the second highest ranked female Belgian Tennis Player. On the 19th of April 2011, Yanina Wickmayer world ranking became 12 which is also her highest career ranking. She is best known for reaching the semi finals of the US Open in the year 2009.


Yanina Wickmayer Biography & Profile
Yanina Wickmayer nickname: Yani, Yana

Yanina Wickmayer date of birth: 20th October, 1989 (age 21)

Yanina Wickmayer tennis racquet: If you wonder which brand's racquet does Yanina Wickmayer use, then it is the 100 years old brand Donnay. Yes, at present Yanina Wickmayer racquet brand is Donnay.

Height: 1.83m

Hair Colour: Brownish Golden

Eye Colour: Hazel eyed

Yanina Wickmayer's Father's Name: Marc Wickmayer

Yanina Wickmayer's Mother's Name: No record (Died early)

Yanina Wickmayer boyfriend: Still she waits…

Yanina Wickmayer hobbies: Shopping, Hanging out with friends and music.

Playing style of Yanina Wickmayer: Right-handed (two-handed backhand)

Favourite surface of Yanina Wickmayer: Clay surface.
Yanina Wickmayer tennis career profile & records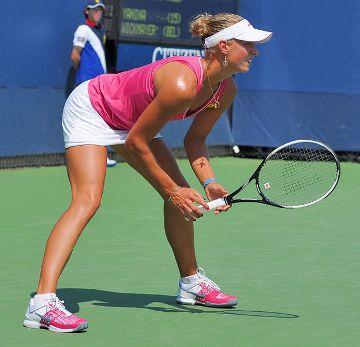 Yanina Wickmayer tennis career started at the age of nine. Yanina Wickmayer tennis coach was Michel Bouhoulle as she turned pro in 2004 and for the first time played at Hasselt and even participated in two events in the ITF Circuit held in Belgium. In 2006, success followed Wickmayer in a number of events. Her first successes were the 3 singles ITF titles and 2 ITF doubles. Her successes continued in 2007 on the ITF circuit and she won several tournaments in Asia. It was around this time that she defeated Caroline Maes and became the Number 2 Female Belgian Player. By this time she had bagged 8 singles title and 7 doubles title on the ITF circuit.

In 2008's Fed Cup, Wickmayer had an unexpected win over Kateryna Bondarenko, who was the Australian Open's woman's champion in doubles. The year 2009 started with loses but then she won her first ever WTA Tour singles title, in Estoril defeated the 3rd seed Sorana Cirstea. After that she received a year ban for some tribunal issues.

In 2011 Wickmayer got her back to the 21st position in the 2011 Australian Open though she lost in the second round as she was ill. She performed well in the next matches and reached the quarterfinals of the 2011 UNICEF Open, falling eventually. She was the 19th seed in the 2011 Wimbledon Championship and beat even the 12th seed Svetlana Kuznetsova and reached the fourth round for the first time where she lost to Petra Kvitova the eventual winner.


Yanina Wickmayer Facebook fan page & Twitter profile

Are you a big fan of Yanina Wickmayer? Here we have given the Yanina Wickmayer Facebook official page and Yanina Wickmayer Tweeter profile respectively for your convenience:





Image gratitude: Wikipedia Commons. Resized from the original work of Christian Mesiano.