Biography and Career of Novak Djokovic 2011 Wimbledon Champion

Novak Djokovic defeated Rafael Nadal and wins Wimbledon Championship 2011 Men's title. Read here to know more about biography and tennis Career of Novak Djokovic and also get information about top ten ATP rankings.


It's a winning celebration for 24 years young Novak Djokovic the Serbian tennis player, who defeated the former champion Rafael Nadal with his fantastic four sets 6-4, 6-1, 1-6, 6-3 where Novak Djokovic won the title 2011 Wimbledon Champion in sunday's final. His performance on the tournament was simply outstanding. On his winning shot, he was overcome with emotion as he kneels down and kiss the ground of Wimbledon Centre Court where he said, "It's really hard to describe this with any words except the best day of my life, most special day of my life". Djokovic earned £1.1 million as prize money for Wimbledon 2011 Championship.


Novak Djokovic Biography

Born at Belgrade, Serbia on 22nd May 1987, the youngest player in the open era Novak Djokovic was ranked number two by ATP. Sports has been infused in his blood as he is not the first sports person in his family as his father was a professional skier and also a soccer player. He has two younger brothers named Marko and Djordje who also plays tennis. Moreover his Uncle and aunt were skiers too. As he was grew up in sports environment he has strong urge and influence in tennis right from his age of four. At his early age he was trained by Yugoslavian coach Jelena Gencic. From the middle of 2006 he was trained by Slovak Marian Vajda.His idol player was Pete Sampras. He joined Nikolo Pilic's tennis accademy at the age of 12. He was loved by audiences and friends for his sense of humor and for that he was nicknamed as 'Djoker'.


Novak Djokovic Personal Profile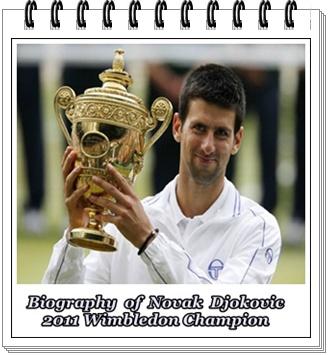 Name: Novak Djokovic

Nicknames: Nole, Nokia, Nox, Djoker

Date of Birth: May 22, 1987.

Birthplace of Novak Djokovic: Belgrade, Serbia

Residence of Novak Djokovic: Monte Carlo, Monaco

Height: 187 cm

Weight: 80kg

Hair Colour: Black

Eye Colour: Brownish-green

Djokovic Father name: Srdjan

Mother name of Djokovic: Dijana,

Siblings of Djokovic: Marko and Djordje

Novak Djokovic Girlfriend: Jelena Ristic

Languages known: Serbian, English and German

Favorite surface of Novak Djokovic: Hard-Court


Are you Novak Djokovic fan? Then you can join and give a like and follow to know more updates from Novak Djokovic Facebook profile -


Tennis Career of Novak Djokovic

Djokovic played many junior circuits from 2001 to 2003 and his first professional match was held at Belgarde in 2003 where he reached the semi-final. The year 2005 paved way for this young tennis player to become one of the Worlds best tennis player where he made his appearance at the Challenger tournament in Belgrade. He got qualified for Grand Slam tournament in Melbourne, Paris and London during 2005. He reached quarterfinal in the Grand Slam in the year 2006 French Open against Rafael Nadal.

At 2007 French Open he lost to Nadal in straight sets on which he reached up to semi final level. In the year 2007 he reached up to finals in US Open but was lost to Roger Federer who was World No.1. It was on '2008 Australian Open' he got his first grand slam title as played against Jo Wilfried Tsonga. In 2008 ATP World Tour Finals Djokovic defeated Nikolay Davydenko. He was ranked world no.2 after his quaterfinals at 2010 Australian Open. On the same year he was crowned with another title of 2010 Dubai Tennis Championship. on the same year at the US Open he lost to Rafael Nadal who was then ranked number one.

In January 2011 Australian Open semi finals he defeated Roger Federer who was world number two. Novok Djokovic biography reveals that he was the only player who defeated Federer in more than one Grand Slam semifinal. In the finals of 2011 Sony Ericsson Open he beat Nadal by winning 4-6,6-3,7-6(4). In 2011 Mutua Madrid Open finals Djokovic defeated Rafael Nadal. In the finals of 2011 French Open he was lost to Roger Federer. In 2011 Wimbledon Championship he won the first four rounds against Jeremy Chardy, Kevin Anderson, Marcos Baghdatis and Michael Llodra thereby reaching quarterfinals where he defeated his opponent Bernard Tomic. In the semi-finals he defeated Jo-Wilfried Tsonga and reached 2011 finals Wimbledon where he defeated Nadal thereby winning the title 2011 Wimbledon Champion.


Wimbledon 2011 Top 10 ATP Ranking Players

Here is the top ten ATP rankings after Wimbledon 2011 which is calculated based on the ranking points and the number of tournaments they played.

1. Novak Djokovic: 13,285, 18 tournaments
2. Rafael Nadal: 11,270, 22 tournaments
3. Roger Federer: 9230, 21 tournaments
4. Andy Murray: 6855, 20 tournaments
5. Robin Soderling: 4325, 25 tournaments
6. David Ferrer: 4150, 24 tournaments
7. Gael Monfils: 2780, 21 tournaments
8. Mardy Fish: 2650, 21 tournaments
9. Tomas Berdych: 2470, 26 tournaments
10. Andy Roddick: 2110, 21 tournaments